Sol Bamba was at the centre of a new shirt removal celebration controversy as he claimed a last minute winner for Cardiff against Brighton.
Leicester winger Demarai Gray provoked a national debate last week when he paid tribute to the club's late owner Vichai Srivaddhanaprabha after his Cardiff winner.
Gray took off his jersey to reveal to reveal an undershirt with the message "For Khun Vichai", but received a yellow card from referee Lee Probert for doing so under the laws of the game.
The defender was engulfed by jubilant Cardiff colleagues, as the Bluebirds celebrated only their second win of the season.
But he was not booked by former FIFA-listed referee Martin Atkinson, who must now wait to see if he is sanctioned for not punishing the offence. It is understood the incident has been recorded as a mistake.
"I don't think Martin would have done that on purpose," Cardiff boss Neil Warnock said of Atkinson's failure to caution Bamba, who admitted to telling the official he had kept his shirt on.
"That's what linesmen are there for really. I did mention to the referee when he warned us about being booked for taking shirts off.
"I said I hope he books three of our players because we don't score that many!"
Bamba was relieved to have claimed the winner in a crazy goalmouth scramble after Cardiff had struck the frame of the goal twice.
The Ivory Coast defender himself had sent an overhead kick against a post before Callum Paterson's follow-up was deflected onto the crossbar by Brighton defender Lewis Dunk.
When quizzed by the BBC about the incident after the game, Bamba said: "The ref asked if I took my shirt off and I said 'no'."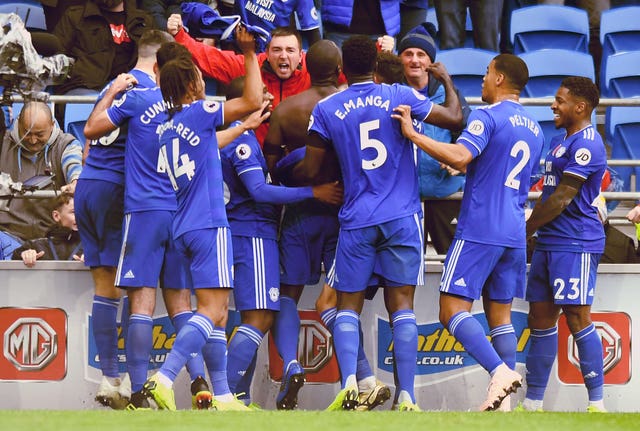 "In the old days I'd have taken the cane out," Warnock said after his 100th game as Cardiff manager
"But you're not allowed to do that now.
"We worked on it every day this week, and then how long did it take? Six minutes.
"But I'm so pleased for Sol. He's come here on a free transfer from day one and been an absolute breath of fresh air."
Brighton boss Chris Hughton insisted that Cardiff's winner should not have stood.
Hughton said: "I don't think it looked like Sol Bamba is offside, he was offside.
"Referees have difficult decisions to make, especially with Cardiff's style of play.
"But what you want them to do is make the big decisions correctly."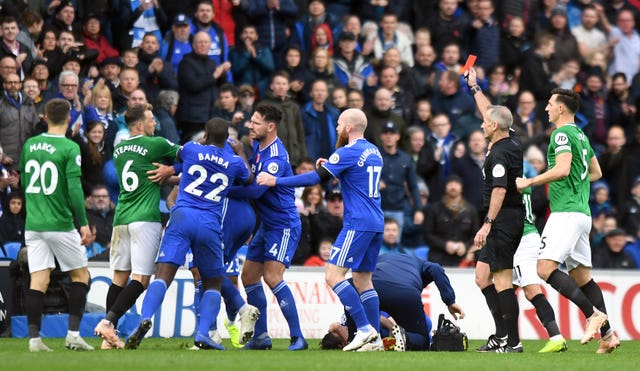 "In Dale's defence, I have seen players go in with a straight leg or studs showing early.
"When Dale raises his foot and his studs are showing, I think it is late in the challenge.
"I don't think there was great contact with the player, and on other occasions I think the referee would not have given the red card."