Novak Djokovic struck another blow for the 30-somethings with victory over Alexander Zverev at the ATP Finals.
Djokovic, 31, dropped just five games against world number five Zverev, the 21-year-old German who is leading the supposed next generation of ATP Tour stars.
His routine win came a day after 32-year-old Kevin Anderson pulverised Kei Nishikori, 28, in a 6-0 6-1 victory before the grand master of them all, 37-year-old Roger Federer, swept past 25-year-old Dominic Thiem.
Nevertheless, following his 6-4 6-1 win, the seventh straight-sets singles result in seven matches, Djokovic insisted: "I think there is a lot of quality in the new generation.
"Zverev is obviously the leader of that next generation. He has proven himself, established himself as a top player. He has won many Masters 1000 events already, I think three in his career, which is quite impressive.
"You have to give him credit for that, for qualifying for World Tour Finals two years in a row. Then you have players like (Karen) Khachanov, of course, (Stefanos) Tsitsipas, (Borna) Coric. I think tennis is in good hands.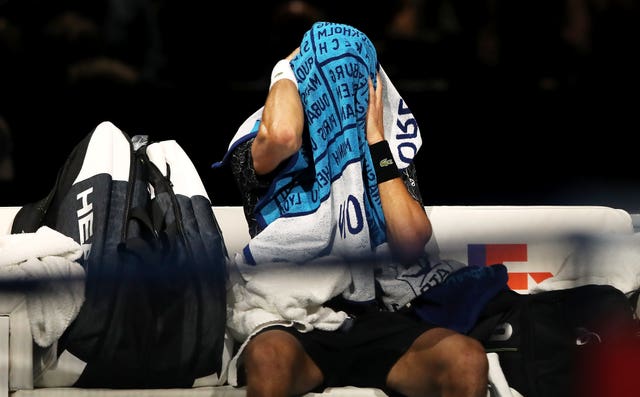 "How long that's going to go on for, we don't know."
Zverev briefly looked like providing the first genuine obstacle to Djokovic's bid for a sixth Finals title, forcing two break points at 4-4 in the opening set.
Yet just over half an hour later he was walking off the court having taken just one more game off the world number one.
Zverev had finished an otherwise extremely tidy opening set with a first double-fault to hand the initiative to Djokovic, and he simply could not wrestle it back.
"Obviously I had chances in the first set," said Zverev. "If I break him at 4-4, we'll see where the match goes. I think the match was much closer than the score says. For sure I feel that way.
"I've got one more group match to play here. We'll see how that goes. Hopefully I still give myself the best chance to be in the semi-finals."
Djokovic's place in the semi-finals was confirmed after Marin Cilic beat John Isner in the evening match.
Big-serving Isner took the first set on a tie-break but Cilic came back to secure only his second victory in 11 attempts at London's 02 Arena, 6-7 (2) 6-3 6-4.