Ireland will be boosted by the "chase" of New Zealand still holding onto their world number one ranking, according to Luke McGrath.
Joe Schmidt's men toppled back-to-back world champions New Zealand 16-9 in Dublin on Saturday, for just their second-ever victory over the All Blacks.
New Zealand have retained their world number one status despite losing to second-placed Ireland, though All Blacks boss Steve Hansen believes the Irish can now call themselves the globe's best.
Ireland coach Schmidt laughed off Hansen installing his side as the world's new top dogs as kidology, and scrum-half McGrath insisted Saturday's victors are not getting carried away.
"It's a great day for us but we know we've still got a lot of work to do," said McGrath.
"So it's big for us to win, but it's also great for us that we've still got them to chase.
"New Zealand are so consistent all the time, and that's the challenge we need to get to.
"We were a little bit off last week so we knew we needed a big performance this week, and that's the exciting thing, the potential, the belief with a win like that.
"It's great to move forward with that and prepare for another big game against the USA."
Jacob Stockdale's 12th try in 14 Tests sealed Ireland's superlative victory, with the triumph underpinned by unrelenting defence.
Leinster scrum-half McGrath paid tribute to Ireland's defence coach Andy Farrell, before reserving special mention for Peter O'Mahony.
The Munster flanker's talismanic performance of controlled fury was epitomised by a stunning steal from right under Ben Smith's nose as the All Blacks wing prepared to scoop up and score.
"It's such an incredible feeling, we had to work so, so hard for the win," said McGrath.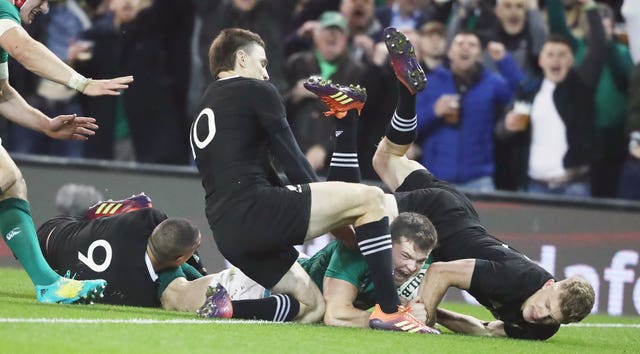 "It was definitely our defence today that won it for us.
"That play that Jacob scored from, you do that during the week and you're never sure if it's going to work in the game, but thankfully it did.
"Once Jacob gets an opportunity, he saw Ben Smith come up into the line and he chipped in behind.
"And once he gets those opportunities, he's absolutely ruthless, he's an unbelievable try scorer.
"The defence in general, Peter O'Mahony coming back: that was absolutely incredible, I couldn't believe it. I thought his hamstring nearly went doing it.
"They are the big moments in the game. We won those today but the All Blacks are world class, so we know we've still got work to do to get to that level."