Tyson Fury and his promoters have criticised the scoring of his fight against Deontay Wilder, claiming he should have won the contest on points despite two knockdowns.
Here Press Association Sport's Phil Barnett gives his verdict, with the judges' actual scorecards at the bottom.
ROUND ONE
Fury's pent-up energy and ring rust are evidenced by frenetic head and upper body movement which disorientates Wilder, with Fury occasionally landing quick jabs. Wilder unsurprisingly looks to land the winging right hand but it is Fury who lands a decent right at the end of the round.
PA SCORE: Wilder 9 FURY 10
ROUND TWO
Wilder settles down somewhat and lands sporadic jabs of his own while already looking to unload the big right hand. Fury's jab is much faster and more accurate but Wilder lands a glancing one-two and finishes with a big right which does not quite have the desired impact.
PA:  WILDER 10 Fury 9
ROUND THREE
Fury's quick jabs, often thrown from the waist, start to tally up while the champion's big swings are repeatedly avoided.
PA: Wilder 9 FURY 10
ROUND FOUR
Fury's masterful boxing and agility continues, making Wilder miss before responding with sharp combinations.
PA: Wilder 9 FURY 10
ROUND FIVE
Wilder, slightly the shorter of the two men, continues to fall short with the jab while his search for a big haymaker look increasingly desperate.
PA: Wilder 9 FURY 10
ROUND SIX
Wilder lands a rare jab but Fury continues to be far more accurate and elusive, using head, upper body and foot movement and a decent guard. Fury lands a stiff jab and follows it with another combination, with Wilder landing a rare jab at the end.
PA: Wilder 9 FURY 10
ROUND SEVEN
Fury is relaxed and in control, offering up a big right cross which narrowly misses. The Briton does land a right one-two midway followed by the same combination seconds later. Arguably Fury's best round.
PA: Wilder 9 FURY 10
ROUND EIGHT
Wilder continues to stalk Fury, trying and failing to find a way to turn the tide. Fury continues to goad and lay traps, landing two overhand rights. Wilder lands a right followed by a left hook.
PA: Wilder 9 FURY 10
ROUND NINE
The American lands two glancing rights and moments later two similar shots land to the top of Fury's head, knocking him down. Fury's senses are intact however and he gets straight up. Wilder looks for the big finish but as he tires, Fury comes back throwing and landing.
PA: WILDER 10 Fury 8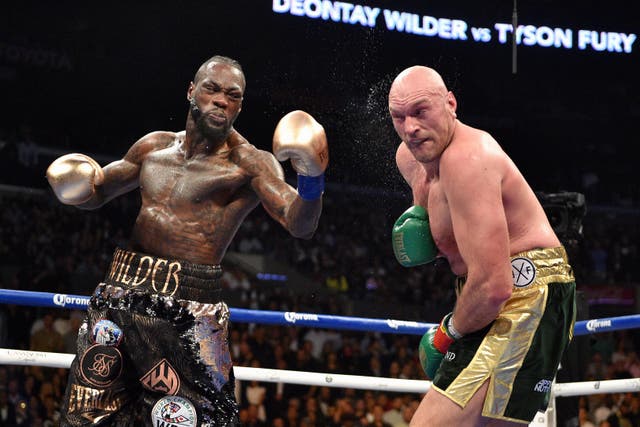 The equilibrium is restored as Fury wins the round. With Wilder having tired in the previous round, Fury is composed and calculated, finishing the round with a combination culminating in a nice right hand.
PA: Wilder 9 FURY 10
ROUND 11
Fury holds the centre of the ring, jabbing away to keep Wilder on the outskirts. The Alabama man still lurches forward crudely and a left hook late in the round is a rare moment of success.
PA: Wilder 9 FURY 10
ROUND 12
Having steadied and recovered brilliantly after the earlier knockdown, Fury seemingly just needs to survive to win the fight. However, a right-hand, left-hook combination sends him crashing backwards to the floor and the Briton appears to be out cold as his head bounces off the canvas. As Wilder celebrates a knockout victory, Fury suddenly rises at the count of six, stunning his opponent and everybody watching to survive until the final bell.
PA: WILDER 10 Fury 8.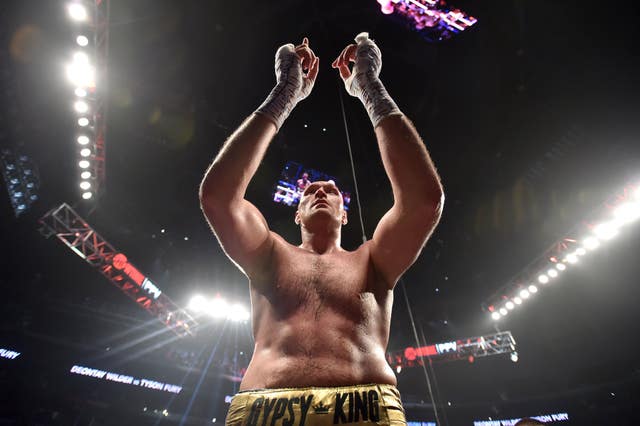 JUDGES' SCORECARDS: WILDER 115 Fury 111, Wilder 112 FURY 114, Wilder 113 Fury 113.