Maurizio Sarri hopes to be given time by Chelsea to realise his ambition of the Blues becoming the best team in the world.
Chelsea face a true test of their progress under Sarri when Manchester City visit Stamford Bridge on Saturday.
Pep Guardiola endured a difficult first season at City before winning the Premier League title in his second season last term, but Chelsea owner Roman Abramovich is not renowned for his patience.
Sarri said: "What happens if Guardiola had no time in City? Maybe the best team in the world (would not have been) City in the last year.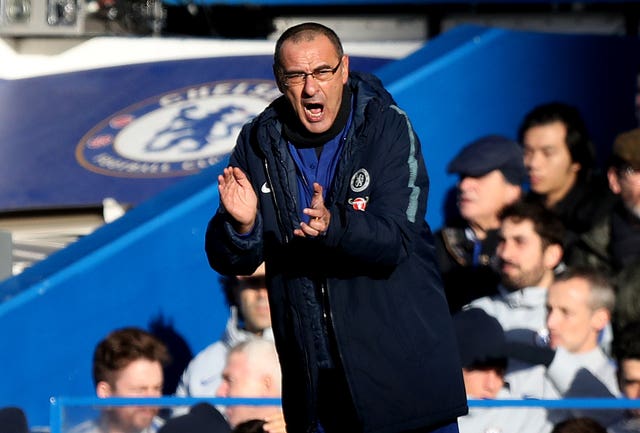 "Then there is the club that will decide what is better for them."
Sarri was appointed in July after fellow Italian Antonio Conte was sacked following the Blues' fifth-placed finish last season, 30 points behind champions City.
Guardiola and Sarri met last summer, with the Spaniard offering advice to the 59-year-old former banker, who has not won a trophy in the professional game.
Ex-Napoli boss Sarri said: "For him (Guardiola), it's impossible to improve 20 players in the first season.
"He told me, in the first season, you have to work only on 14, 15 players otherwise you are in trouble.
"You need a season just to understand the real situation here (in England)."
Sarri has stuck largely to a trusted unit and was rewarded with an 18-match unbeaten start to the competitive season, after Community Shield defeat to City in his first game in charge.
Two losses in the last three league games, to Tottenham and Wolves, mean Chelsea sit fourth, 10 points adrift of leaders City after 15 games.
Sarri has already criticised his players – even World Cup-winning midfielder N'Golo Kante has not been immune – as he tries to transform the Blues' playing style.
Sarri says it is necessary for him to stick to his methods, and not tinker match by match, to achieve change.
He added: "To change the style of football, system, players… that (changing every match) is not the right solution, I think."
While Guardiola spent £200million after his first season in charge, Sarri insists recruiting talent is not the answer.
He added: "You cannot think that you can buy 11 new players without problems. If you do, the problems will be the same.
"You have to create a new mentality and a new style of playing. We need to improve.
"We need to arrive at 95 per cent of our potential. And then we can get the last five per cent with a new player. With a new player, not 11 new players."
Sarri forecast problems due to his bid to implement his approach – they have just come later than he envisaged.
He added: "I was sure that sooner or later we'd face problems, but I thought it would be in the first two months.
"The first two months we played well, we gained points. And so I thought that the problems would arrive in November and December. I was sure."
Yet he maintains Chelsea can shock a City side unbeaten since April.
"It's a very difficult match against, maybe, the best team in Europe at the moment," he added.
"It's impossible to beat them in a long period, of course, in this moment. But in a match, everything can happen.
"In 90 minutes anything can happen. We know it's very difficult but we have to believe in it."