Novak Djokovic and Rafael Nadal are level once again at the top of the men's singles all-time grand slam standings.
Djokovic defeated Stefanos Tsitsipas in the Australian Open final to claim his 22nd slam title, the same mark Nadal hit at the French Open last season.
Here, the PA news agency looks at their journeys and asks what will happen next.
How did we get here?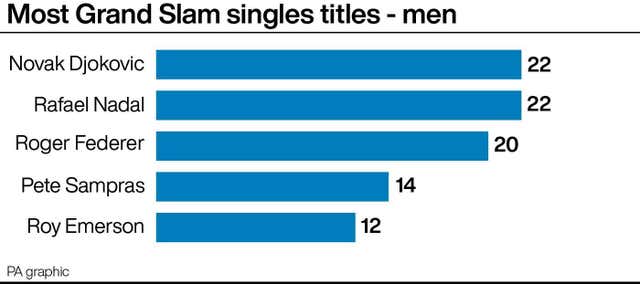 Who's in better shape?
What happens next?
In a best-case scenario, Nadal could return for the next big tournaments in Indian Wells and Miami in March, but may choose to stay off the match courts until his favoured clay. With the pair locked at 22 apiece, it sets up the delicious prospect of a straight fight for outright supremacy at the French Open beginning on May 28.
How many could they end up with?
A fascinating question. Nadal may look vulnerable but do not expect anyone to bet against him adding a 15th title at Roland Garros – and maybe even a 16th – too. Djokovic, meanwhile, barring unforeseen circumstances, will be the favourite at Wimbledon and the US Open, and of course when the tour returns to Australia next year. It would be a surprise if he does not overtake Margaret Court's outright record of 24 to be the most successful grand slam singles player of all time and he could perhaps push on towards 30.