Former champion Jordan Spieth has pledged to fight for the AT&T Pebble Beach Pro-Am to become one of the PGA Tour's elevated events.
As part of the response to the threat posed by LIV Golf, the PGA Tour's top players have committed to playing against each other at least 20 times a year.
The 20 events are made up of the four majors, the Players Championship, 12 elevated tournaments and three other events chosen by the players.
The AT&T Pebble Beach Pro-Am is not among those events in 2023 but precedes two which are – the WM Phoenix Open and Genesis Invitational – and that has contributed to a relatively weak field in California.
US Open champion Matt Fitzpatrick (10th) is the only player in the world's top 10 in a field which includes just seven of the top 50.
Spieth, who is ranked 16th, said he was not surprised the event had missed out this year, but added in his pre-tournament press conference: "I would fight for an opportunity for this to be an elevated event in future years.
"I'm not sure if the format would have to change or what would have to happen, but I really think the opportunity to get the top 50, 60, 70 players in the world playing Pebble Beach and that being a PGA Tour event would be as successful as when the US Open's held here.
"I think that trying to go to the world's best courses, when you have the opportunity, would be advantageous for the PGA Tour. So I will fight for it."
Asked if the inclusion of celebrity and amateur players would need to be changed, Spieth added: "If it's not elevated every year, if it were to rotate or something like that, you still have the opportunity to have the pro-am portion and you could still work it into an elevated event I think.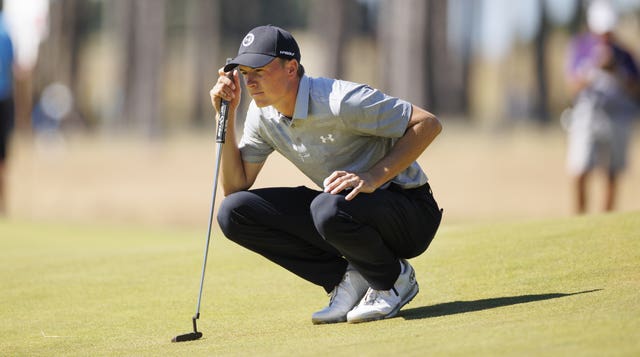 "I think there's some options to play around with that's way above my pay grade and on the sponsors, the networks, the Tour to try and figure out."
Spieth has not competed since making some unwelcome history in the Sony Open in Hawaii, where he followed an opening 64 with a 75 to become the first player in tournament history to go from leading to missing the halfway cut.
"I look back and I toed one three-wood and I heeled one driver and I hit most every other shot where I was looking," the three-time major winner said.
"It was just kind of a bad run of cards. I was a foot or two off the fairway here, right behind this tree in the right spot, lipping out, whatever it was. I didn't really let it bother me very much and hadn't really thought about it, to be honest."