Fred Wright will rekindle a long-held Olympic dream when he returns to the velodrome in a Great Britain jersey next week.
The 23-year-old has built his reputation on the road in the last 12 months with a string of valiant near misses seeking stage wins at the Tour de France and Vuelta a Espana, but has been named in a Great Britain track squad for the first time since 2019 for next week's European Championships.
As a youngster, Wright watched Britain dominate the team pursuit at consecutive Olympics and dreamt of taking his own place on the podium, and although he admitted his pursuiting is not a strong point, he is now eyeing the chance to ride the Madison in Paris in 2024.
Breaking into a strong British squad over the next 18 months will not be easy – particularly as Wright balances his continuing ambitions on the road – but next week's Championships in Grenchen, Switzerland, will give both Wright and Great Britain coach Ben Greenwood the chance to see where he stands.
"I'm excited but a little bit nervous to see how the track legs are going to be, but that's the whole reason I'm doing it," said Wright, who is racing on the road for Bahrain-Victorious this week at the Volta a la Communitat Valenciana.
"Going to the Olympics on the track was an ambition of mine since I started properly getting into cycling. The way things have gone haven't led to that but I'm now in the position where the possibility of that is something I'm really going to push for.
"I want to do the road race possibly as well – the chance to come in and do the road race and the Madison, that's what I'm aiming for. The Euros…are almost a test to see how that would look."
Wright will race both the Madison and the elimination race in Switzerland. He had been due to partner Ethan Hayter in the Madison – the pair raced together at the Gent Six in November – but Hayter has been ruled out after a crash in Australia last week, so Ollie Wood will ride instead.
Wright emerged as a breakaway star on the road last year, albeit one without a win as he took second on stage 13 of the Tour and finished on the podium four times at the Vuelta, and he is determined to go one better this year as he also targets the Classics.
Wright was part of Britain's senior academy with his focus on the track as a teenager. He won European Under-23 gold alongside Matt Walls in 2019, as well as winning World Cup medals in London and Hong Kong, but said at the time he was not strong enough to keep up with those heading to Tokyo.
"Even that Hong Kong Madison I did (winning bronze alongside Mark Stewart) was a similar situation to the Euros. It was, 'Let's see how strong Fred is in a Madison' but I didn't quite have the legs then," he said.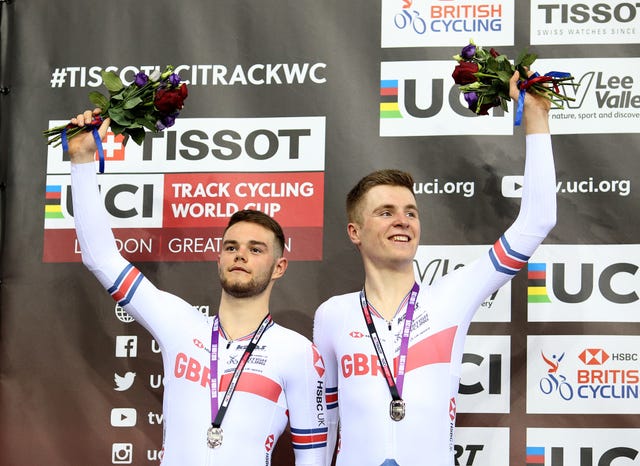 "It seems like it's all falling into place quite nicely now but I won't know until I'm 150 laps in how much of a good decision it was.
"I really enjoy racing on the track and I'm quite honoured to get this opportunity. It's a big chance and people like Ben have put a lot of faith in me. I'm really looking forward to seeing how it goes."