Owen Farrell has been entrusted with the fly-half duties for England's Guinness Six Nations clash with Italy after Steve Borthwick underlined the role played by Henry Slade's return in unlocking his midfield selection.
Marcus Smith has been dropped to accommodate Farrell's move from inside centre to the number 10 jersey, breaking up the playmaking axis that has been in place for the last eight Tests.
Completing the overhaul for the round-two match at Twickenham is Slade's return at outside centre after missing the defeat by Scotland because of a groin injury and Ollie Lawrence's return at 12.
"In terms of the dynamic, having Henry available this week is very important," said Borthwick, England's head coach who served as Eddie Jones' number two from 2016 to 2019.
"When I was an assistant coach with England, Henry played in some very important games for us and he brought some strengths in some really important games.
"Coming back, I can't tell you how impressed I have been with him. He's a seasoned campaigner, at both international level and club level and has an outstanding skillset."
Smith's omission means Farrell, the Gallagher Premiership's form fly-half, makes his first start for England in his preferred position since the 2021 Six Nations.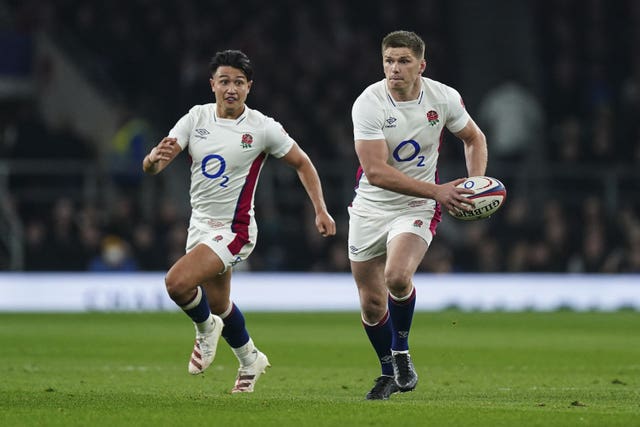 "He's also a very good defender in that channel and in the last couple of years at Saracens his ball movement has really developed.
"What we have with the combination of Owen, Ollie and Henry is right and left-footed kickers, carrying ability and distribution. There's a great blend of strengths there."
Few selection decisions have created as much debate as Smith's creative partnership with Farrell, which has fired only fleetingly, yet was seen by Borthwick's predecessor Jones as worth ongoing investment.
The dominant view has been that only one should be chosen at fly-half with the other supporting from the bench, but Borthwick has tuned out the noise by relying purely on the advice of his assistants Kevin Sinfield and Nick Evans.
"I listen to people that are really close to me. In Kevin Sinfield and Nick Evans I've got two people who know a fair bit about how to play in playmaking positions and understand the game," Borthwick said.
"In the autumn I've watched the players closely and in the last couple of weeks I've had the opportunity to watch them very closely.
"I've got Henry Slade available and that gives you a different option. I listen to the people who give me clear insight."
"Jack hunts. You watch his games, you watch him train – he hunts. He is there, hunting for that opportunity," Borthwick said.
"He also carries the ball well. It's very easy for us to talk about stealing the ball on the floor, but I see him carrying the ball really effectively."