Pep Guardiola has accused Manchester City's Premier League rivals of conspiring against them after they were charged with more than 100 breaches of Financial Fair Play regulations.
The City manager believes other clubs have been pushing for City to be punished.
City were hit with 115 charges of relating to FFP breaches dating back to 2009 on Monday.
Asked if he felt other clubs had been driving the matter, Guardiola said at a press conference: "Of course – it is the Premier League. I don't know why. You have to ask the CEOs, Daniel Levy, these kind of people."
City were previously found guilty of breaching UEFA's FFP regulations and were consequently banned from European competition for two years.
That ban was later overturned following an appeal to the Court of Arbitration for Sport, but Guardiola has not forgotten the conduct of some other clubs during that process.
"It's not an unprecedented story, it's the second time. We lived that before, two or three years ago.
"You accuse us – we should be out, but between those nine teams before and the 19 teams now, between their word and the word of my people, I'm sorry but I rely on the words of my people."
City could face heavy punishment, including points deductions and expulsion from the Premier League, if found guilty.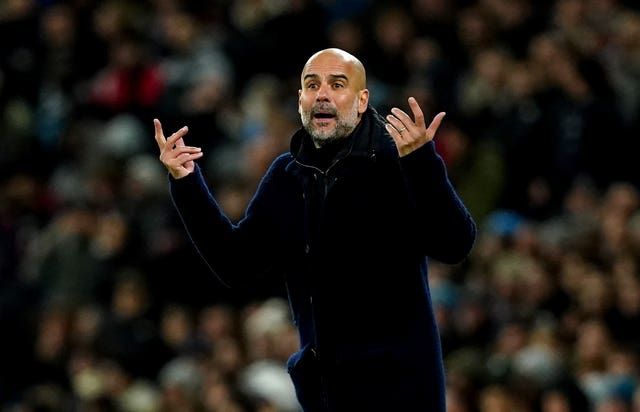 The 52-year-old is confident City will be exonerated but intimated other clubs could fall foul in the future.
He said: "It is difficult for me to answer, I don't know, but they open a precedent now, with what they have done to us.
"Be careful in the future because many clubs can make suggestions and a lot of clubs can be accused, like we are accused, without being innocent.
"When they push to get rid of us, it is obvious they believe we didn't behave properly. We can accept that but let us defend (ourselves)."
He was asked if that remained his position now but the Spaniard, who signed a new contract in December, is confident it will not come to that because he believes what the top brass have told him.
He said: "I am not moving from this seat, I can assure you. More than ever I want to stay.
"Sometimes I have doubts – seven years already is a long time in any country – but now I don't want to move.
"They didn't lie to me. Look what happened with UEFA. I said to them, 'What happened?' (They said), 'Pep, we did nothing wrong.'
"We proved it. It is the same case. Why should I not trust my people? Why should I trust the CEOs or the owners of the (other) 19 clubs? I trust my people – not one second for the other ones."