Canada women's football captain Christine Sinclair has claimed her team are being "forced back to work" by legal threats and will play in the SheBelieves Cup "under protest" after declaring a strike on Friday.
The Olympic champions announced they would take job action and suspend all activity over funding and governance issues they say will compromise their ability to perform at the Women's World Cup in just over five months.
Sinclair's side are due to meet the United States on Thursday for their opening match of the four-nation tournament, but on Friday forward Janine Beckie told TSN the team would not be taking the pitch unless their issues were resolved.
That stance was reversed after representatives of the Canadian Soccer Players Association (CSPA), which represents the players of the Canada's Women's National Team (CWNT), met with Canada Soccer on Saturday to discuss their concerns.
A subsequent statement from the CSPA read: "Prior to that meeting, Canada Soccer told us that they consider our job action to be an unlawful strike.
"They told us that if we did not return to work – and did not commit today to playing in Thursday's game against the United States – they would not only take legal action to force us back to the pitch but would consider taking steps to collect what could be millions of dollars in damages from our Players' Association and from each of the individual players currently in camp.
"As individual players who have received no compensation yet for any of our work for Canada Soccer in 2022, we cannot afford the risks that personal action against us by Canada Soccer will create. Because of this, we have advised Canada Soccer that we will return to training tomorrow and we will play in the SheBelieves Cup as scheduled.
"We continue to believe that Canada Soccer's cuts to the national team programmes – especially right before our World Cup – are unacceptable. We continue to believe that Canada Soccer needs to do more to support our programs and our players, and we continue to believe that unless we stand up together and demand more, nothing will ever change."
Sinclair quote-tweeted the statement and wrote: "To be clear. We are being forced back to work for the short term. This is not over. We will continue to fight for everything we deserve and we will win. The SheBelieves is being played in protest."
Canada Soccer responded with a statement which read: "Canada Soccer has heard the Women's National Team Players and has committed to a path to addressing each of the demands made by the players. But Canada Soccer knows that is not enough. There is still work to do.
"Canada Soccer has committed to negotiating a comprehensive collective agreement with both of the player associations of the Women's and Men's National Teams. That agreement, once concluded, will be an historic deal that will deliver real change and pay equity in Canada Soccer. It is a goal worth getting right.
"Canada Soccer has also seen the comments from the CSPA about 'forcing' the players back to work. Canada Soccer respects the players' right to organise.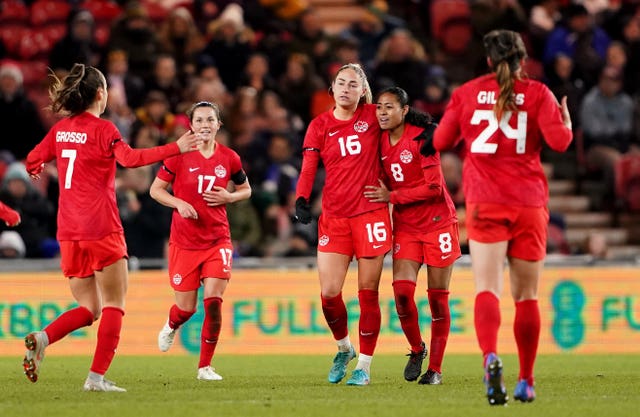 "Canada Soccer therefore took the necessary steps to ensure that such games will be played as scheduled. Canada Soccer is heartened that the Women's National Team Players will play as it committed."
The players' coordinated campaign kicked off on Friday with both Canada's women's and men's national teams issuing statements over budget cuts and demanding answers from the federation.
The women's statement included claims that measures had resulted in scrapped or severely reduced training camps, including cuts to players and personnel, and said the team had been told there would be no home friendlies before the World Cup.