George Turner believes Scotland are ready to flourish now that they have learned to focus on sustained improvement instead of dwelling on their victories.
Many players have spoken recently of a mentality shift whereby the Scots are looking to build genuine consistency rather than simply basking in the after-glow of any wins that come along.
This outlook has been deemed a key factor in Gregor Townsend's side kicking off a Six Nations campaign with back-to-back victories for the first time after they followed up their Calcutta Cup triumph at Twickenham with a clinical 35-7 destruction of Wales at BT Murrayfield on Saturday.
"The last couple of years we've been talking about a special group of players and we've had great wins over England in the opening games then slipped against Wales home and away having been confident going into both those games," said Glasgow hooker Turner.
"We talked after the England game about how we'd had a good win but that we'd made a lot of mistakes and knew we had a lot to improve.
"We were all ecstatic that we'd won against England but everyone just automatically rolled into the next week and was like 'we know we've lost to Wales a few times, we need to focus'."
Turner feels the same approach of instantly turning attention to improving in the next match can stand the Scots in good stead as they bid to remain top of the Six Nations table with victory away to France a week on Sunday.
"It's a great feeling in camp, a great group of boys," he said.
"The next game is about really fine-tuning and having a proper good performance. We've got things to work on and get better at. We're obviously confident and we want to back up these wins again but we won't take France lightly. We want to win there again."
Turner scored the first of Scotland's five tries on Saturday following a maul, but only after a TMO review to check he had managed to ground the ball under a ruck of bodies.
"I didn't know I'd scored until I looked up at the replay," he said. "I got a bit lucky. They nearly held me up but I just touched a blade of grass!"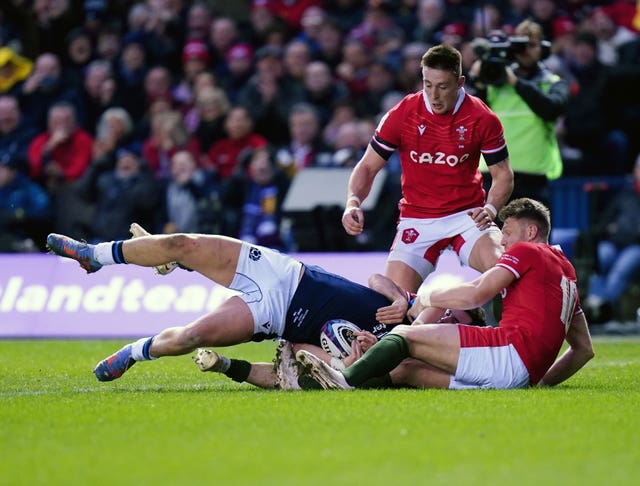 "I was absolutely gutted," he said. "I can see why it was a yellow card. But we have plans, we replicate in training things that can happen.
"Actually, we replicated last week what we might do if I got a yellow card so that was good foresight, maybe. The boys adapted to it, spread a bit more and did a good job.
"It was a wee momentum shift. They got a few calls and they nearly scored in the corner right at the end of the half. If we'd let them in, we would maybe have dropped our heads but to keep them out at that point was a really big thing."