Three months after exiting the Emirates Stadium stony-faced in the wake of England's shock World Cup semi-final defeat to Samoa, Sam Tomkins is relishing the return of a Betfred Super League season that he believes could be among the most competitive on record.
Tomkins endured a "grim" week dealing with the fall-out of Samoa's stunning golden-point success before returning to the south of France to begin preparations for a fourth campaign with Catalans Dragons, who get under way against Wakefield at Belle Vue on Friday night.
The 33-year-old's own season will not start until next month as he fights to regain fitness following post-World Cup knee surgery, but despite the lingering fall-out from that England heartbreak, his enthusiasm for another assault on the play-offs remains undimmed.
"It was a pretty grim period and you soon become sick of people asking about it. It was very tough to take at the time so getting home to France with my family was a nice relief, and really the catalyst for being able to resume normal life again.
"I've never taken losing very well but I've lost big games in the past and been able to deal with it, and I've managed to deal with this in the same way. It's not a case of learning anything from the experience, you just get on with what you were doing before."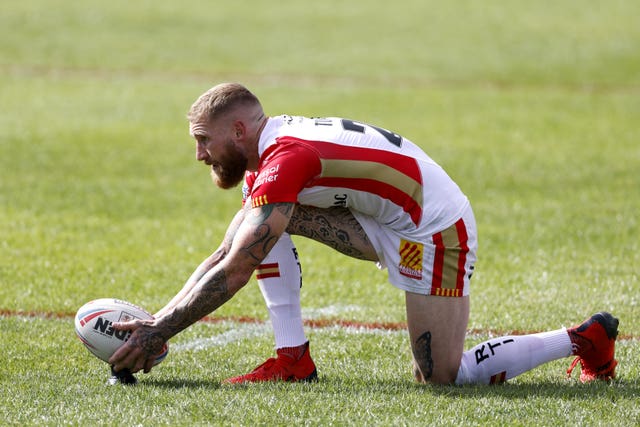 Despite often upsetting the odds since their arrival in the top-flight, winning the Challenge Cup in 2018 and reaching the Grand Final three years later, questions have been raised over the French club's ability to sustain their momentum given the nature of their new-look squad.
"I've seen some of the predictions and they don't really concern me," added Tomkins. "We know we're being doubted as not as good as we have been in previous years, but we are the ones who are in control of how our season will go.
"We're used to being written off. People didn't expect us to win the Challenge Cup or to reach the Grand Final. We've lost a few players over the close season but we've retained a lot of pivotal players in key positions, and we haven't left too big of a hole.
"I think there's a lot to be excited about in Super League this season. Some of the best players in the game have re-signed to Super League clubs, and we haven't lost that many. There is often a danger of putting a negative spin on things.
"John Bateman has gone to the NRL but think of the calibre of players we could be losing – Jack Welsby, Jonny Lomax, George Williams – who are all still here. There is a lot of talent in the game so it's important that we don't get down-hearted about it."
Uncertainty continues to swirl around the immediate international calendar, with only an April match against France as yet inked into the diary, and the future of England coach Shaun Wane is continuing to be discussed.
"The World Cup showed there is still an appetite for international rugby league and I think the only way to capitalise on that is to get more games and really good games – we want to play the best like Australia and Zealand, Tonga and Samoa," added Tomkins.
"It's obvious to me that Shaun is still the man for the job, provided he has still got the passion for it. To be fair to him, we need to put a programme in place before he can make the decision. For Shaun to be at his best, he needs to know he has something to get his teeth into."