Mykhailo Mudryk will return to the Chelsea side stronger after spending four games out of the starting line-up, according to Graham Potter.
The winger has struggled to make an impact since his £88million transfer from Shakhtar Donetsk in January and has not started since the first-leg defeat to Borussia Dortmund in the Champions League last month.
Shakhtar director of football Dario Srna said the 22-year-old was "not in a good mood" after being left out of the following 1-0 home defeat to Southampton on February 18, but backed him to fulfil his potential as one of Europe's most promising young players.
And the manager thinks Mudryk, who had not played a competitive match since November upon arriving at Stamford Bridge due to the winter break in Ukraine, will similarly benefit from his spell on the sideline.
Potter said: "Every player wants to play and it's important that players play in order to improve. That's a fact.
"But at the same time it's not a straight road. It's not just play and then everything happens in a linear way. Sometimes you have to take a step away, sometimes you just need a bit of training time, just need a breather. Lots of factors.
"Hopefully (Mudryk) can benefit from the time he's had. It's not easy for him to arrive in the middle of pre-season for him. To come to a new country, new club, new league, and hit his maximum level. I know people look at the fee, but it doesn't change his situation that he's in.
"We're positive about him, we're positive about the future for him. But we need to help him settle and help him understand what he needs to do to help us."
Potter will be without Raheem Sterling and Reece James for his side's Premier League trip to Leicester on Saturday.
Sterling, who scored the goal that levelled the two-legged tie on Tuesday, is out with a tight hamstring while James has been ill and did not train on Friday.
N'Golo Kante, who has not played since August after undergoing surgery on an injured hamstring, will not be rushed back to face his former side at the King Power Stadium but is in line to make a return for next Saturday's home game against Everton.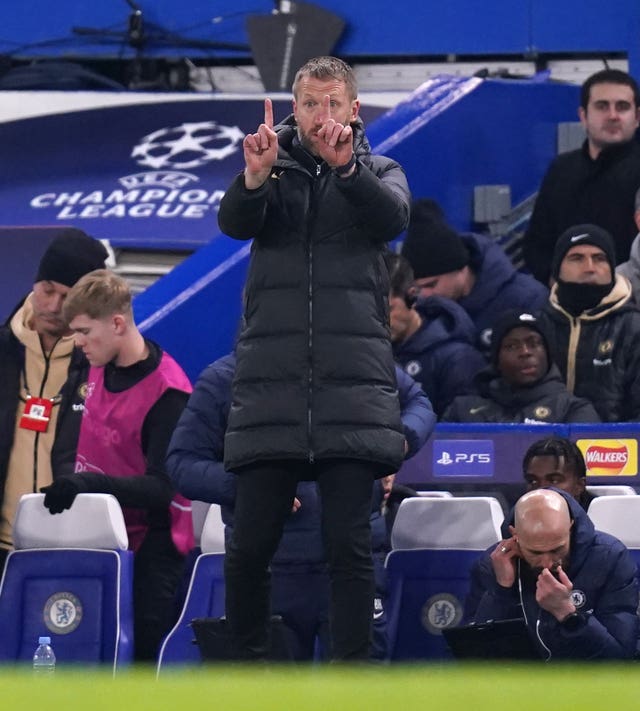 "I'm the same as every Chelsea fan – it's better if we win," he said. "On the one hand you get criticised for showing no emotion, then when you say it's hard when you lose, that becomes a real story. How is that?
"It's really difficult to just play a game of football at whatever level and just say 'well we've lost the game', we come home and everything's fine. That doesn't work for me. That's not to say I'm a disaster zone around the family. My kids are my kids, and I'm very fortunate to do the job I do. I'm very lucky.
"But clearly if you're in a job where results aren't going as well as you'd like them to go, it becomes more difficult than when you're winning. That's part of football, it's part of life. You have to work with perspective.
"The whole point of everything is to win. That's not to say you can do it all the time.
"You have to see defeat as an opportunity to improve. The tough times and the bad times are a chance for you to really grow as a person, as a club and as a team."