Liverpool's forward line is undergoing an evolution but manager Jurgen Klopp believes the club is already reaping the rewards of their longer-term planning made this season.
In the week following the 7-0 demolition of Manchester United, principal owner John W Henry spoke of his ongoing commitment to the club and the need to continue to "invest wisely".
That is likely to come in midfield, where Liverpool have been short for some time, but it is the recent rapid strides made by Darwin Nunez, a £64million signing in June, and January arrival Cody Gakpo which look like making the transition from losing Sadio Mane last summer and Roberto Firmino seamless.
Both players scored twice at the weekend, Gakpo taking his tally to four in the last six while Nunez has four in four and 14 for the season, and that has helped lessen the blow of being without Diogo Jota and Luis Diaz for several months.
"I think Sadio, Bobby and Mo (Mohamed Salah) together were for quite a while one of the best front three in world football.
"Then Sadio left in the summer, we will see what happens to Bobby in the summer, and only Mo is left pretty much. But we replaced them and Diogo came in that time as well.
"That's investment, and it's wise investment and responsible investment. That's what you want and what you need and what we needed.
"This year they were unfortunately most of the time injured, that didn't help, but they were here anyway and Cody only came later.
"This has to be now, in a similar manner we will do that for other parts of the team and that will be possible."
There was a lot of expectation on Nunez, in particular, after he arrived for a potential club-record fee of £85m but less so for Gakpo, whom the club moved quickly to sign from PSV Eindhoven as a result of interest from rivals – including United.
Nevertheless, the Netherlands international has exceeded expectations, with his last couple of performances suggesting he has got up to speed pretty quickly.
"They deal very well with it (expectation) but I think we deal very well with it altogether because we don't put extra pressure on the players; we never did and will never do," said Klopp.
"But that doesn't mean there is no pressure because we know the world can be quite an intense place, especially when you cost a lot of money and a lot of things are said and written and you have to deal with it.
"Obviously scouting can never be perfect because you only know a player when he is around you but we were obviously spot-on in these moments.
"We signed the player but the boy behind (the player) as well, and both worked really well so I'm really happy with the development."
Firmino told Klopp a week ago he would not be extending his contract, which expires at the end of the season, despite the manager wanting him to stay.
The Brazil international is ending an eight-year spell at Anfield but has told Klopp he is determined to finish on a high as they chase Champions League qualification, with a victory over Bournemouth in Saturday's early kick-off enough to take them into the top four.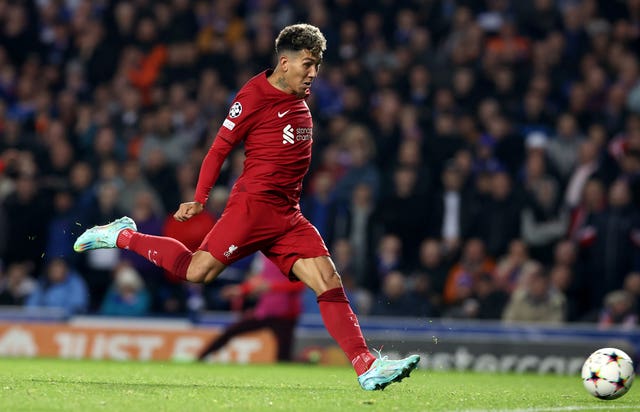 "He told me and then the only other thing he said is, 'Now I want to bring this wonderful story to a positive end'.
"He is completely here and completely committed, how everybody can imagine and that's all we need to know.
"There's no time for a goodbye or whatever in this moment, there's enough time for that later in the season."
Diaz is set to make his long-awaited return to training next week – as could defender Joe Gomez – having been sidelined with a knee injury since October, but midfielder Thiago Alcantara's comeback is likely to be after the international break.