Liverpool manager Jurgen Klopp has said he could not understand the BBC's decision to stand down Gary Lineker from presenting Match of the Day, insisting it should be possible for people to express their opinions.
Lineker was taken off air for a tweet which compared the language used to launch a new Government asylum seeker policy with 1930s Germany.
But the BBC has been left apologising for broadcasting only "limited sport programming" this weekend after several presenters, pundits, commentators and reporters joined a boycott in support of Lineker.
"Everybody wants to be so concerned about doing things in the right manner, saying the right stuff. If you don't do that then you create a s***storm, it is a really difficult world to live in.
"If I understand it right, it is a message, an opinion about human rights and that should be possible to say."
Neither managers nor players will be asked to speak to the BBC as part of their post-match media duties on Saturday.
Klopp added: "It is not about me now showing the BBC, it is not that the guy with the BBC mic is a bad person.
"I heard about the 'rules' of BBC that you are not allowed to have these opinions, it is a difficult world to live in. I can't say more."
The decision not to conduct BBC interviews came after a number of players contacted the Professional Footballers' Association on Friday seeking advice.
The union said it would support any members who declined to fulfil their media duties, and the BBC subsequently told the Premier League it would not seek interviews from either players or managers.
A PFA spokesperson said: "We have been informed that players involved in today's games will not be asked to participate in interviews with Match of the Day.
"The PFA have been speaking to members who wanted to take a collective position and to be able to show their support for those who have chosen not to be part of tonight's programme.
"During those conversations we made clear that, as their union, we would support all members who might face consequences for choosing not to complete their broadcast commitments.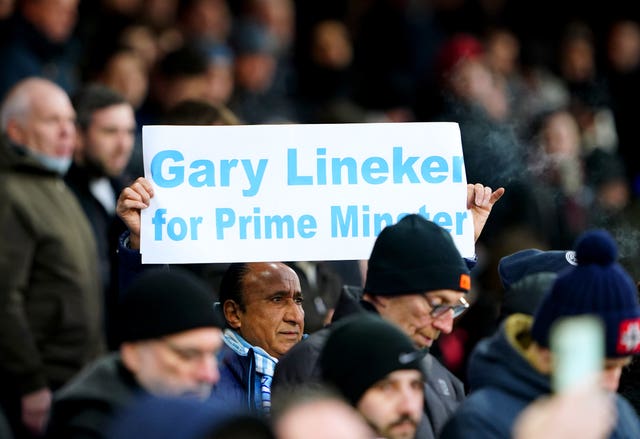 There were shows of support for Lineker from fans attending games at Swansea and Crystal Palace.
A Swansea supporter held up a sign saying 'Gary Gary Gary Lineker Stand Up to Racism' before their Sky Bet Championship game against Middlesbrough.
A Manchester City fan also expressed his support for Lineker at Selhurst Park, with a sign saying 'Gary Lineker for Prime Minister'.