Gary Lineker's first assignment back on the BBC will be to present live coverage of the FA Cup quarter-final between Manchester City and Burnley on Saturday.
The corporation confirmed Lineker's reinstatement to Match of the Day on Monday morning after the former England striker was told to step back from hosting the show on Friday in a row over impartiality.
Lineker had been due to present the City v Burnley tie on Saturday evening prior to Friday, and a BBC Sport spokesperson confirmed Lineker would front the coverage as originally planned.
The wider presenting line-up is yet to be confirmed, with many of Lineker's BBC Sport colleagues walking out in "solidarity" at the weekend.
The Match of the Day highlights shows on Saturday and Sunday were significantly shorter than usual, and were aired without presentation or commentary.
Lineker was taken off air for a tweet comparing the language used to launch a new Government asylum seeker policy with 1930s Germany.
BBC director-general Tim Davie said in a statement the corporation would now commission an independent review of its social media guidelines, particularly for freelancers.
Minutes after the official BBC statement was published, Lineker tweeted: "After a surreal few days, I'm delighted that we have navigated a way through this.
"I want to thank you all for the incredible support, particularly my colleagues at BBC Sport, for the remarkable show of solidarity. Football is a team game but their backing was overwhelming.
"I have been presenting sport on the BBC for almost three decades and am immeasurably proud to work with the best and fairest broadcaster in the world. I cannot wait to get back in the MOTD chair on Saturday.
"A final thought: however difficult the last few days have been, it simply doesn't compare to having to flee your home from persecution or war to seek refuge in a land far away. It's heartwarming to have seen the empathy towards their plight from so many of you.
"We remain a country of predominantly tolerant, welcoming and generous people. Thank you."
Football coverage on BBC TV and radio shows was hit across the weekend as pundits, presenters and reporters – including Alan Shearer, Ian Wright and Alex Scott – stood down.
Match Of The Day aired for only 20 minutes on Saturday without accompanying commentary or analysis from presenters, with Sunday's edition following a similar format and running for a reduced 15 minutes.
The Women's Super League match between Chelsea and Manchester United aired without a pre-match presentation on Sunday, and Radio 5 Live replaced much of its usual live sports coverage over the weekend with pre-recorded content.
Davie apologised for what he acknowledged had been "a difficult period for staff, contributors, presenters and, most importantly, our audiences".
He added: "The potential confusion caused by the grey areas of the BBC's social media guidance that was introduced in 2020 is recognised. I want to get matters resolved and our sport content back on air."
Davie described the BBC's commitment to freedom of expression and to impartiality as a "difficult balancing act".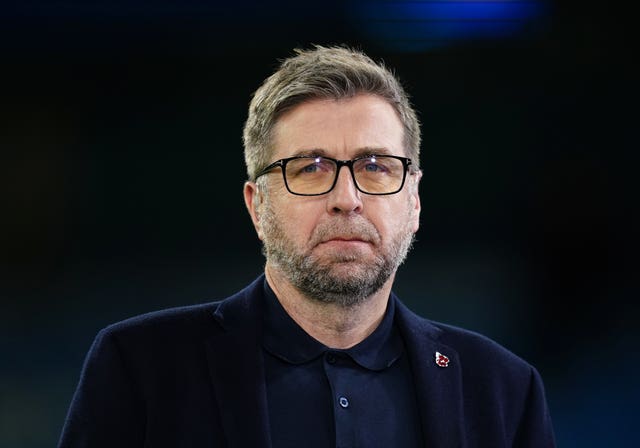 "This weekend has been miserable and difficult for everyone involved and to you the listener I am sorry that we didn't bring you the usual service you would expect from us and I appreciate your patience," he said. "If you are angry then I completely get that too.
"Most importantly I would personally like to acknowledge all those who work behind the scenes on 5 Live sport and at BBC Sport, and those staff members who were on air who were put in difficult and uncomfortable positions through absolutely no fault of their own, and they have been at the receiving end of abuse for just doing their jobs.
"It is disgusting and unfair and it is ironic that in a row over impartiality we have all been seen to be taking sides, and I feel there are lessons to be learned by all involved."