Jill Scott wants to ensure the foundations of women's football remain firmly in tact amid its rapid acceleration, warning it must not go "too fast".
Scott, 36, was part of the Lionesses' squad that lifted the Euro 2022 trophy at Wembley and called quits on her playing career following last summer's monumental win – England's first in a major tournament.
Though the popularity of women's football had been building for years, that victory catapulted the game – and particularly those who play at elite level – into unprecedented territory, sparking a seismic shift that has since led to fundamental changes at every level.
"What I love about girls' and women's football, it's been a tough journey but I feel like we've really built the structure as we've gone, and sometimes [before] if someone just gets you in any sense and puts you [up] there, you are going to fall through the cracks in the foundation," Scott said, addressing the audience at Women in Football's Be Inspired conference.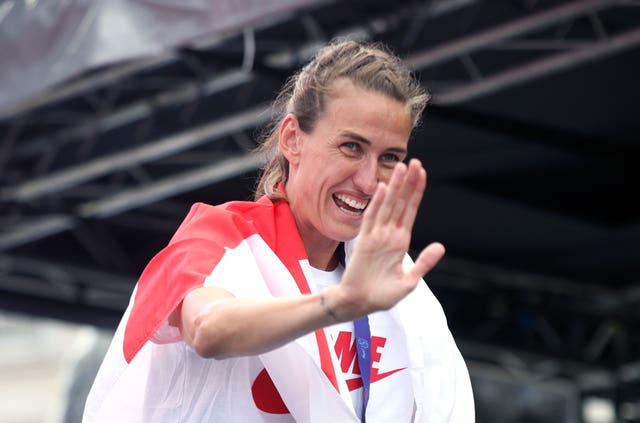 "Obviously we always want better. You get a nice car, you want a better one, you get a nice house, you want a better one, but I think we have to make sure that we are facilitating those girls in a safe space, and on the back of the Euros each of the 23 players have their own football pitch in their area, which is brilliant."
Scott was the first of the Lionesses to open one of 23 pitches, jointly funded by the government, the FA and the Premier League's Football Foundation, set to be named after each of the European champions and built near the players' hometowns.
The facility named after Scott was unveiled last month at the Perth Green Community Centre in Jarrow, down the road from Scott's native Sunderland, and boasts floodlights and 3G pitches.
She said: "Girls' and women's football is now going to take priority on those pitches. I turned up to open this pitch and I thought, 'Oh, it's going to be just a little pitch or whatever'.
"It's like a half-a-million-pound investment. I nearly came out of retirement!"
Scott was asked to take pictures at Wembley ahead of Tuesday's conference. She obliged, but refused to step on the pitch, explaining: "I wanted the last time to be at the Euros."
The day after that historic victory, Scott and her team-mates made a decision that would have more significant consequences.
They wrote a letter, addressed to then-Conservative leadership candidates Rishi Sunak and Liz Truss, demanding all girls would get the chance to play football at school, citing a Football Association statistic noting only 63 per cent were given the opportunity.
That call was heeded earlier this month on International Women's Day, with the Government announcing a unprecedented package of measures that will see schools told they must deliver a minimum of two hours of PE each week and that girls and boys should be able to play the same sports in lessons and extra-curricular clubs.
"We'd been partying for 24 hours, and Lotte [Wubben-Moy] put a message in the group just saying, 'What's our legacy going to be?' And I was like, 'Oh, I've got a really bad head'," Scott joked.
"I fell in love with football at school. And I was very fortunate that we had the girls' football team, but I think without that support I wouldn't have gone on to have the career that I've had.
"The fact that [they were] taking away a potential dream from a little girl really struck a chord with me. So it was fantastic work from [England captain] Leah [Williamson] and Lotte," said Scott, before quipping: "And I could go and take the credit!"