Northern Ireland boss Michael O'Neill was left to rue missed chances as his return to Windsor Park ended in a frustrating 1-0 Euro 2024 qualifying defeat to Finland.
A disjointed first-half performance was punished by Benjamin Kallman's 28th-minute goal and although Northern Ireland improved once chasing the game, some poor crossing limited the number of opportunities they could muster and wayward finishing meant they could not capitalise on those that did come.
After Thursday's 2-0 win away to minnows San Marino, this was a reality check as to the challenge of trying to get out of Group H and to the hurdle presented by Northern Ireland's considerable injury list.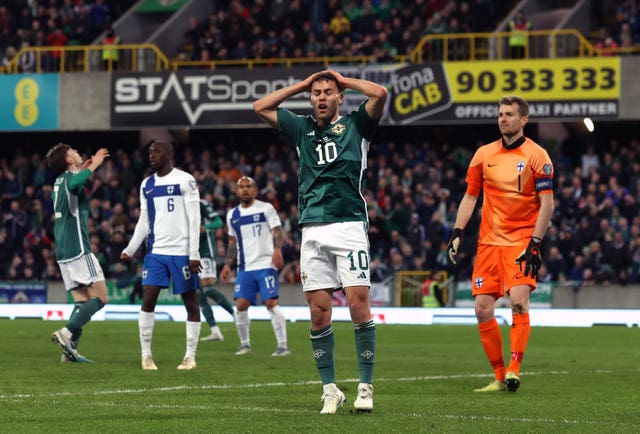 "We feel we should have at least taken something from the game. In terms of the effort and commitment from the players, their attitude towards the game was first class.
"We're asking a lot of some very young players, we're asking a lot of some players who are not playing on a regular basis for their clubs. The only disappointment is we've come out on the wrong side of a narrow goal and a narrow game."
Dion Charles missed a good chance to put Northern Ireland ahead shortly before Finland's goal, turning a shot over from Conor Bradley's pull-back, and also had a goal disallowed for handball just after the hour.
"The front players we have are the players we have," O'Neill said. "I think Dion's chance is one he would be disappointed with, he would normally take that.
"Josh's chance comes at a good point in the game but we have to remember Josh has been out injured and the minutes he's had for Wigan have come off the bench. If he was playing more regularly I think it's one Josh would expect to score.
"I think it was a game that if we'd got level we'd have been able to ask more questions of them than they could ask of us."
There was still belief they could win this match and make a strong start to the campaign, but now there is some catching up to do – even if Denmark's surprise defeat to Kazakhstan has already suggested things might not go to form in Group H.
"It's damaging because we missed the opportunity to pick up points at home which is always important, but it's not a result we can't make up for," O'Neill said.
"We'll maybe have to win games on the road that people think were going to be more difficult. At the end of the day it's three points lost, it's nothing more than that. We have to prepare and believe we can get it further down the campaign.
"I think as the campaign progresses we'll be a little bit stronger in terms of the personnel and if that happens we believe we can make amends."