Anthony Joshua believes his future will become clearer after his next fight and accepts the bar needs to be raised.
The 33-year-old halted retirement talk with a unanimous points decision victory over Jermaine Franklin at O2 Arena on Saturday night.
Joshua won by a wide margin on each of the judges scorecards to bounce back from consecutive defeats to Oleksandr Usyk, but there was no statement finish in London.
All eyes are now on Joshua's next move, with the former two-time world heavyweight champion open about his desire to face Tyson Fury, even if he is unsure whether his peak has already been reached.
He said: "After George Foreman lost to (Muhammad) Ali, he took X amount of time out of the ring and came back and became champion. It happened so many times with fighters.
"Look at Wladimir Klitschko, he went on and reigned for how many years? Retired at the age of 41. You never stop learning to be honest.
"In terms of peak? As I said, who knows? Who knows where that peak is because getting the win today leads us on to bigger heights for the next one.
"I will have to raise the bar again and that means I will have to peak again for the next fight. Honestly, who knows where I'm going to be at for the next fight and that is where we will find out.
"By getting through this. The next fight I have, I'll find out if I am flat, if I just can't push myself that bit any more or if I still have a level to go."
His first win since 2020 prompted debate over whether to target a rematch with Dillian Whyte before then eyeing a huge clash with Fury later in the year.
But Joshua feels he could head into a showdown with the WBC champion in the summer due to his improved conditioning.
"One of the big issues with me personally was stamina," Joshua said.
"In terms of Tyson Fury, would I need more time? Not necessarily because I have the time now.
"Coming off a 12-round fight, with that training behind me, we managed to build from here up to here. It's a great place to be. Twelve rounds isn't a bad thing if you have a big task like Tyson Fury, who is also a 12-round fighter.
"One thing that I am more confident about is my conditioning. I'll be able to concentrate.
"How did I manage to lose the fight with Usyk? In the ninth, the 10th, the 11th, the 12th. In the last stretch you can lose a fight.
"I don't want to make that mistake again. One thing I'm confident about, whether it is fact or not because I haven't watched it back, but deep down inside of me I'm more comfortable that if I have to go the 12 rounds, I can get so much better."
While Joshua holds renewed belief about his fitness, he does accept there is one area where he is no match for Fury.
"You ain't going to beat Tyson Fury in a verbal contest," he laughed.
"I'll be real, I'll be real. I respect the man. He's achieved a lot. I just feel I don't need to trash talk, verbally trash talk someone to make myself feel better. That is just me personally.
"That's his background. What does he do every day on the internet? '70-30, you rabbit!' That is just what they do.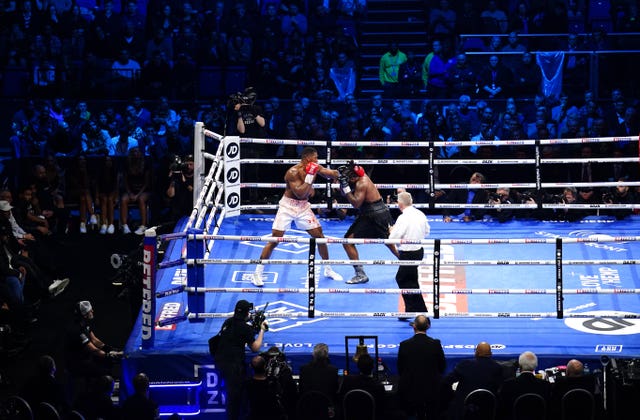 Regardless of whether a fight with Fury can be finalised or not, Joshua's plan is to return to Derrick James' World Class Boxing Gym in Dallas in two weeks to begin preparation for a summer bout.
He added: "The governor (Eddie Hearn) will let me know when he's ready.
"I need to get back, plan the next step as soon as possible and get back in the ring.
"The sooner the better if I'm honest. I need to get better, 100 per cent. I'm hungry. When I get back to sparring, I know where I need to get to."