Azeem Rafiq is open to the idea of meeting with former Yorkshire team-mate Michael Vaughan and believes there could be a role for the ex-England captain in reshaping the sport in the wake of the high-profile racism case.
Vaughan was cleared on Friday by a Cricket Discipline Commission panel of using racist language towards Rafiq and three other Yorkshire players of Asian ethnicity before a match in 2009.
The panel found charges against five other individuals formerly connected to the club proven.
Vaughan met Rafiq 18 months ago in what the 48-year-old described as "positive and constructive discussions" before charges were brought by the England and Wales Cricket Board, and Rafiq says he is willing to speak to Vaughan again.
"The one thing I've always tried to do is try and get in a room and have conversations, because my view has always been that we're only going to get things better if humans start to have conversations with each other and get each other's perspective," he 32-year-old told the PA news agency.
"And from that point of view I would always be open to that."
Asked if a meeting with Vaughan was something he would welcome in the future, Rafiq replied: "Yeah, absolutely. Ultimately it can't be about me, it can't be about Michael. This has got to be about the game, and the game's failings up to this point.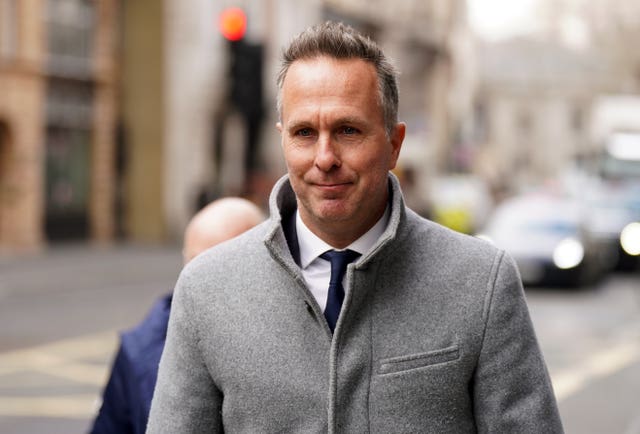 "The game's got a very simple choice. It's either going to confront its failings and really make a commitment and drive forwards together, or it's going to live in the level of denial that it has continued to for a long period of time and we're going to end up with another Azeem Rafiq in 20 years' time, or probably not even that long."
Vaughan said the dismissal of the charge against him took "nothing away from Azeem's own lived experiences". Charges against the seven other defendants in the CDC case were either admitted or found proven.
Vaughan's statement said he remained keen "to help bring about positive change in any way" and Rafiq said there could be a part to play for Vaughan.
"I'm not in any position to be making those decisions. (But) If there's a willingness – absolutely, I think so," Rafiq added.
"The level of abuse since Friday has felt like the two and a half years of it all put together in three days," he said.
"I've repeatedly been called the P-word, I've had a few tweets where I've been called 'Rafa the Kaffir'. I actually reported one to Twitter and I got an email this morning saying that it doesn't violate the rules," he said.
"We're having the same conversations again and again and you know, it's just really sad."
The treatment Rafiq has faced might make other whistleblowers think twice about coming forward, but he insists it is vital that people speak out.
"It's been tough. The inside of me is broken to the absolute core. The level of trust that's been broken inside me – I don't know whether that will ever heal," he said.
"The next bit of what I do is going to decide in my view whether people will come forward and that's why I'm very determined to make sure that what happens to me moving forward is positive.
"In terms of the abuse and the attacks, quite clearly it's been a message to everyone else, 'don't come forward'.
"But my message to everyone else will be: 'Stand up for what you believe in. Don't be a bystander. Stand up for what you believe in, and you'll have way more support than I did'."
Rafiq still sees a future for himself within the sport despite the personal pain of the last three years since he first spoke out.
"I've been portrayed as 150 things, and you know, I am determined to go out there and make sure that I stick to my morals and values and what I believe in, but also I want to have some fun – I want to do some fun stuff," he said.
"I would love to get into cricket, whether that is in a broadcasting capacity, media stuff or, you know, around administration and leadership.
"I don't know where or when that happens at this stage. But ultimately cricket is something I absolutely love and adore. Nothing will mean more to me than to be able to play a big part in what's arguably been one of the toughest times for the game, to use that and help drive the game forward relentlessly, so everyone can come to cricket and feel respected and valued."