British Swimming will set no timescale for Adam Peaty's return to competition after the three-time Olympic gold medallist was left out of the squad for the World Aquatics Championships in July.
Peaty, 28, withdrew from the recent British Championships, saying he was "not enjoying the sport", and will extend his break in order to focus on his mental health.
British Swimming said in a statement it will look to provide Peaty with all the support he needs during his time away from the sport.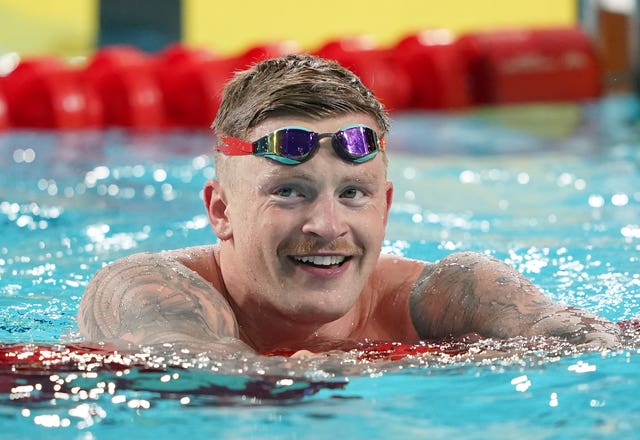 "The focus is very much on ensuring he is fully supported, and working with him on when he is ready to make a full return to his normal competition schedule."
Peaty has previously said that he hoped his decision to step away would help him prepare for next year's Paris Olympics and the defence of his 100 metres breaststroke and 4×100m mixed medley titles.
In total six Olympic champions – Freya Anderson, Tom Dean, Anna Hopkin, James Guy, Matt Richards and Duncan Scott – will compete in Fukuoka, Japan this summer, with James Wilby also out to add to his previous world championship medal.
Freya Colbert, Dan Jervis and Laura Stephens all made qualification times in their respective events in Sheffield.
There will be 10 swimmers set to make their world championship debut in Japan, including Katie Shanahan, who won 200m backstroke and 200m individual medley titles at Ponds Forge.
British Swimming performance director Chris Spice said: "We were really pleased with the standard of our athletes' performances at the British Championships, with established names and new faces delivering big swims and helping play their part in some outstanding races.
"As with every year, our swimmers and coaches will now put those performances behind them and focus on what they can do between now and the summer to ensure they can deliver a season's best when it matters most."