Manchester United boss Erik ten Hag wants even more from Antony after he answered his critics in the 2-0 win over Nottingham Forest.
The former Ajax winger has come under scrutiny for his output since his £82million summer move from the Dutch club and Ten Hag was forced to defend him in the build-up to the clash at the City Ground.
And he immediately rewarded that faith with an impressive performance, scoring one and making the other as United strengthened their grip on the top four.
But Ten Hag is not satisified and wants more consistency from the Brazil international.
"But already he had quite a lot of end product, he scored in all competitions now, eight goals, first year at United is not bad and still games to go.
"But he has to do it. I can't say in every game, but many games if you want to be a top-class player and especially in all the competitions.
"In the Premier League, there are a lot of quality defenders and you have to act on a really high level.
"It is a lot about scanning, taking the right decision. There is only a split moment where you have to take that decision.
"He has to step up. Today was an example where, with both goals, he made the right decision."
Antony opened the scoring in the 32nd minute when he showed desire to get to the rebound first after Anthony Martial's shot was saved. He then superbly created Diogo Dalot's goal with an incisive through ball.
Ten Hag added: "It's so important in top football, the timing, the right moment to bring the pass is huge, it makes every impact, it makes the difference between a goal and no goal.
"The goal he made, he was in the right spot, in the right moment to get the rebound. The second goal was a great team goal, how we built that up, the way Antony did it to bring the pass, and in the right moment. The movement from Diogo was fantastic. It was good to see."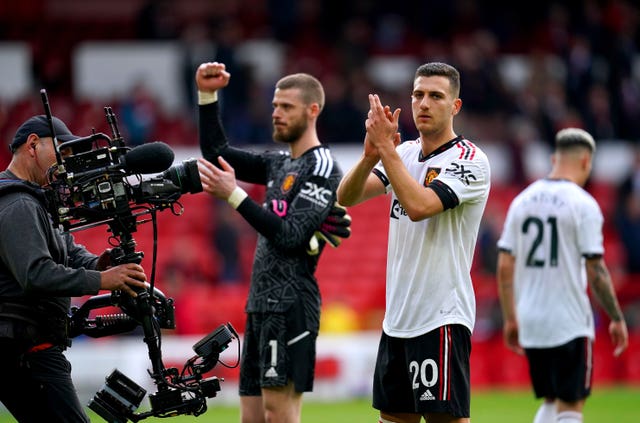 They were competitive in the opening half an hour and could easily have been awarded a penalty when a corner appeared to strike Harry Maguire's outstretched arm.
But referee Simon Hooper did not give it and VAR official Andy Madeley chose not to overrule.
Cooper was insistent that was not the reason his side lost, but is expecting a meaningless apology from the PGMOL.
"I repeat, it's not the reason we lost, and I won't hide behind a penalty decision, but I do think it is a really, really, really bad error. One from the referee on the pitch, but benefit of the doubt from that angle and bodies around the high handball. But for VAR not to give it, they apologised last week and are going to have to apologise again tomorrow, which means absolutely nothing.
"But it is happening too many times for me. I'll say it for a third time, I don't think it's your headline why we lost the game, but I don't think these errors should be happening.
"I try not to be the manager who talks about poor decisions but the Harry Maguire one I am struggling to get my head around it, especially the VAR.
"We are having a tough time with the refereeing department and unfortunately we have been on the wrong end, it's our turn this week."