Hossein Vafaei has told seven-time winner Ronnie O'Sullivan to "play like a man" and vowed to make him pay for his perceived disrespect after setting up a second-round grudge match at the World Snooker Championship in Sheffield.
The Iranian produced a brilliant display of scoring to beat Ding Junhui 10-6 in the first round on Monday to set up his first meeting with the world number one since his 5-0 whitewash win in qualifying for the 2022 German Masters.
Vafaei has been riled since 'the Rocket' decided to smash directly into the balls from his break-off in the final frame of the match, subsequently calling on O'Sullivan to retire because he was "not good for the game".
The 28-year-old stepped up his criticism on Monday, moments after rattling in breaks of 117 and 122 as he turned a 5-4 overnight deficit into a hugely-impressive 10-6 win over the former finalist.
"Ronnie was my hero," said Vafaei, who became the first Iranian to qualify for the Crucible in 2022.
"I could never see myself beating him. When I beat him 5-0 I was a little bit sad, but on another side happy because I showed I can play.
"I believe that everything happens for a reason, you can't run away. If you do something bad to the people and break someone else's heart, then God will give you an opportunity to get revenge."
In a separate post-match interview with the BBC, Vafaei, who had previously called O'Sullivan a friend, described the world number one as a "legend", but added: "He's such a nice person when he's sleeping, you know?"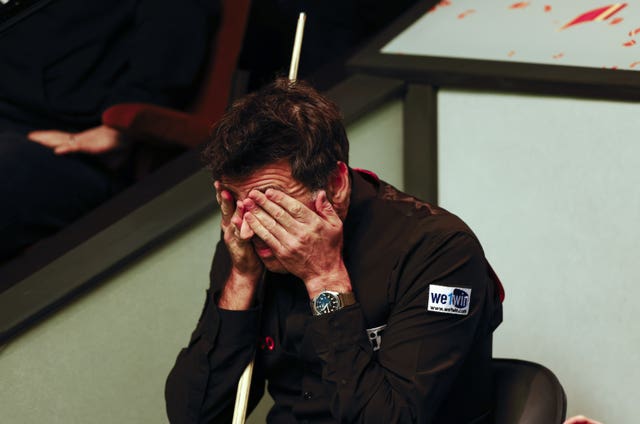 Told O'Sullivan had been ill before his sluggish 10-7 triumph, Vafaei added to the BBC: "He always finds an excuse for himself, he's been like that for 30 years."
His comments will test O'Sullivan's stated desire for a controversy-free tournament.
Asked about the prospect of facing Vafaei prior to the Iranian's latest barbs, O'Sullivan told Eurosport: "Has he been saying much about me this year? I think he's learned to be quiet.
"Don't rattle my cage. I love it when they call me out, I love it when they give me stick. I just love it.
"It turns me on. I get off on it. I need something to find so I'm hoping someone says something and hopefully I get better so I can have a reason to perform."
Vafaei rattled off the first four frames when play resumed on Monday morning, making breaks of 117, 122, 68 and 57 in rapid succession.
Ding stopped the rot after the mid-session interval with a break of 77, only for Vafaei to end a safety exchange in frame 15 with an audacious plant into the middle pocket, despite the cue ball being tight on the cushion.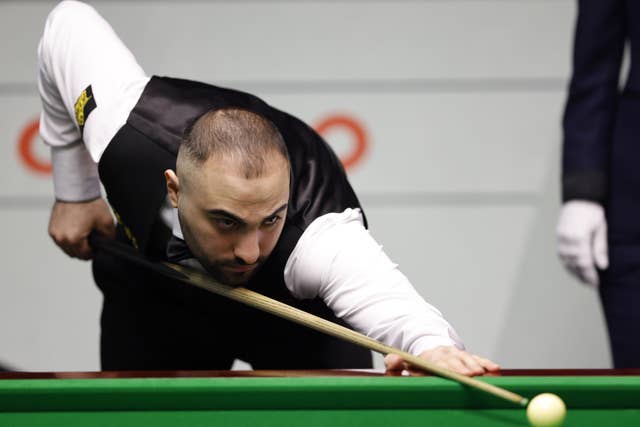 In a curious twist, Vafaei himself was challenged over his shot choice in the 12th frame of the match, when, targeting a 147 but with the frame still up for grabs, he played an exhibition shot to get in and out of baulk.
Eurosport commentator called Vafaei's effort a "sensational shot", but added that it was "perhaps unwise with the frame still up for grabs", and that "Ding might take this as a bit of an insult".