England will welcome Tonga for a historic three-match Test series in October and November.
The contests, which will be played at St Helens on October 22, Huddersfield six days later and Headingley the following week, will mark a maiden international series between the two countries.
It is understood the initial plan was to invite New Zealand over and while that fell through, England head coach Shaun Wane, leading the side on Saturday for the first time since last November's World Cup semi-final loss to Samoa when they take on France, insisted Tonga will pose a formidable challenge.
"They've been a real success story on the international stage in recent years, building on their exploits at the 2017 World Cup, and they will offer a real test.
"It's also a great opportunity for us to get three high-quality Test matches under our belt as we continue to push towards the next World Cup in 2025."
England were given a stiff test when they last played Tonga, who with seven minutes remaining in their 2017 World Cup semi-final trailed 20-0 before running in 18 points to set up a grandstand finish.
England held on to secure a 20-18 victory at Auckland while Tonga pushed eventual runners-up Samoa all the way in last year's World Cup before going down by an identical scoreline in their quarter-final at Warrington.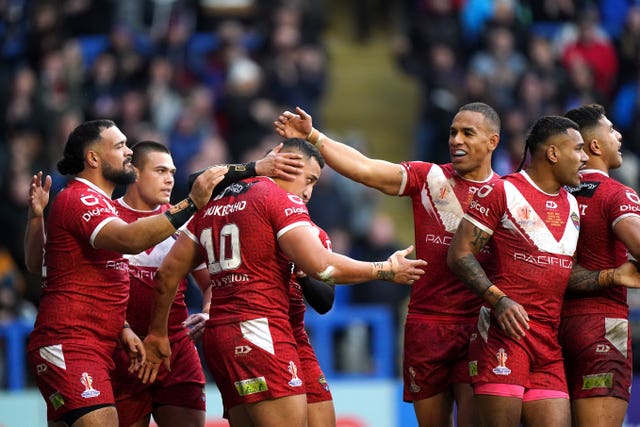 "There is no doubt that this is another historic moment for Tongan Rugby League," Woolf said.
"This will be the first time one of the Pacific Nations has been invited to play in a full three-Test series against England, in the place where our great game began.
"It is easy to forget that this is an honour usually only reserved for countries like Australia and New Zealand.
"I know our players are excited by this challenge, and are also keen to go back to England to try and prove what we can do in the northern hemisphere. We feel we did not showcase our best at last year's World Cup, and this will be an opportunity for Tonga to correct that."