Tottenham's habit of starting games slowly left Harry Kane exasperated after Sunday's 4-3 defeat at Anfield.
Liverpool raced into a 3-0 lead inside the first 15 minutes before Spurs fought back to 3-3, only to concede a stoppage-time winner.
"Dreadful start in the first 20 minutes, not the first time it's happened this season, so we need to start understanding moments better, start understanding big games better," Kane said.
Here, the PA news agency picks out some key stats behind Tottenham's slow starts.
Wait and see
If games ended after 45 minutes, Spurs would be ninth in the league, with 10 wins out of 34 and a goal difference of -9 (21 goals scored compared with 30 conceded).
In contrast, their record in the second period – 17 victories and a goal difference of +15 (42 goals for, 27 against) – is bettered by only Manchester City and Arsenal.
Tottenham were even more conservative in cup competitions under previous manager Antonio Conte.
Apart from netting three times in the opening 36 minutes at home to Eintracht Frankfurt, Spurs failed to score before half-time in 11 of their 12 matches in the Champions League, FA Cup and Carabao Cup.
Mountain to climb
They have shipped 20 goals in the first 25 minutes of matches – the most in the division – nine of which have come in the last three games against top-four rivals Newcastle, Manchester United and Liverpool.
Having conceded five in the opening 21 minutes at St James' Park in the second-worst start to a match in Premier League history (behind Watford who shipped five in 18 minutes against Manchester City in 2019), Spurs have since allowed early goals by United's Jadon Sancho and Liverpool's Curtis Jones, Luis Diaz and Mohamed Salah.
Inviting pressure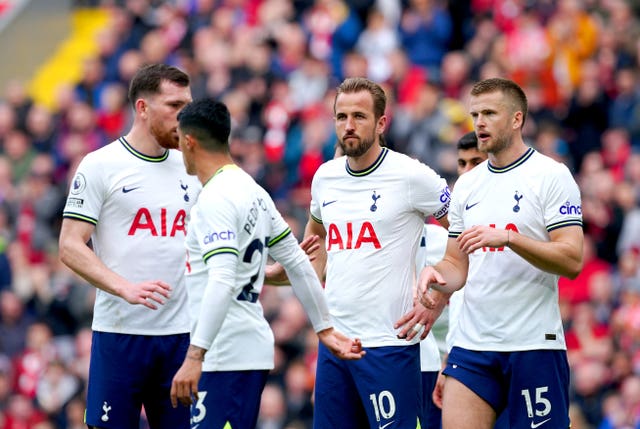 In the Premier League, they have taken a total of 205 shots in the first period, while allowing 240 efforts on their own goal.
Aston Villa, Fulham and Brentford are the only other teams in the top half of the league to have been outshot before half-time.
Spurs look to turn the tables in the second 45 minutes, with 267 shots for compared with 235 against.
They are the only side in the league to have faced fewer shots in the second half – when teams are more likely to be chasing a goal – than the first.