Former NFL star JJ Watt has put his old Chelsea allegiances to one side because he believes he can make a big difference at Championship-winning Burnley.
The 34-year-old, who retired from playing last year, has been in Lancashire this week to enjoy Burnley's final game of the season and take part in Tuesday's trophy parade after he and his wife Kealia, a former United States international, became investors in the club.
Watt has previously said he was a Chelsea fan but that is in the past for the three-time NFL defensive player of the year.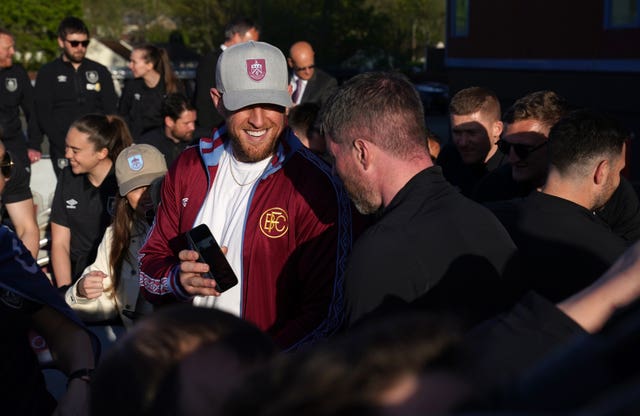 "Burnley is a club that has been around since 1882, it's got incredible support in a great town and I'm very much looking forward to helping create the vision that Alan (Pace, chairman) and Vincent (Kompany, manager) have for the club.
"With a club like Chelsea if I got involved, I couldn't do anything, I couldn't have any impact in what is a $6billion club. But if you come to a club like Burnley you have the chance to make a difference, the chance to make an impact.
"I don't hide the fact I used to be a Chelsea supporter but I'm all Burnley now."
While the Premier League is now awash with investment from around the world, most of that is channelled into the big six clubs or those in London. Turf Moor is a long way from the more glamorous image of the top flight, but Watt, who grew up in Pewaukee, Wisconsin, said that appealed to him.
"I'm from a small town in Wisconsin and I grew up watching the Green Bay Packers," said Watt, who spent 10 seasons with the Houston Texans and two with the Arizona Cardinals.
"Every bit of evidence says Green Bay is not a big town and there's no reason for them to be great but I think that something special can happen in a small town, especially when you have a manager like Vincent Kompany and a chairman like Alan Pace, and supporters like we have here."
Watt admitted he felt a bit of out of place at Tuesday's parade – "I don't feel like I deserve to be here because I just joined" – but he has quickly got involved in several aspects of the club, even sitting in on a meeting looking ahead to the summer transfer window.
Having taken some inspiration from the impact Hollywood owners Ryan Reynolds and Rob McElhenney have had at Wrexham, just promoted to League Two, Watt said he wanted to take Burnley global.
There will also be a particular focus on improving the women's team at Burnley, who play in the National League North, the third tier of the pyramid.
"I'm going to be helping to increase the global brand," Watt said. "We want to help create interest and excitement around Burnley Football Club and tell the story of the town and get people to understand how great of a place it is.
"(The women's team) is a big part of what we want to do. Women's football is on the rise globally and we want to make sure Burnley is a part of that rise."