Pep Guardiola has no plans to celebrate if Manchester City win the title without playing on Saturday and compared closing out the Premier League season to a tennis player serving for Wimbledon glory.
City are on the brink of a fifth top-flight crown in six seasons and it will be confirmed before they next play if challengers Arsenal lose to Nottingham Forest on Saturday.
Guardiola insists he is not thinking about that prospect, however, and is focusing only on beating Chelsea at the Etihad Stadium to win it on the field themselves on Sunday.
The City manager said: "I don't think (we'll be celebrating) because we have a game the day after and Chelsea deserve it.
"We cannot control Nottingham and it doesn't matter what happens in Nottingham. We have to do our job and win our game.
"If we can win we can celebrate in the stadium with our people and that would be the best."
Wrapping up the title this weekend would cap a memorable week in which treble-chasing City reached the Champions League final with a stunning victory over Real Madrid on Wednesday.
He said: "Of course we are satisfied to be able to play the Champions League final but it's non-stop.
"Now is coming the most difficult thing. Tennis players say to serve to win Wimbledon is the most difficult one.
"On Sunday, the game is in our hands to win the most important competition. We're lucky to have the chance to finish at home with our people. We have to take it."
Guardiola said: "I have a good memory. When we played against United to win the Premier League, 2-0 up at half-time and we lost the game.
"Against Aston Villa we were 20 minutes away from losing the Premier League at home. So the last one is the most difficult one because there are a lot of emotions and many things.
"You have to control it and be focused. We cannot be distracted right now. We will not forgive ourselves if we are distracted in something."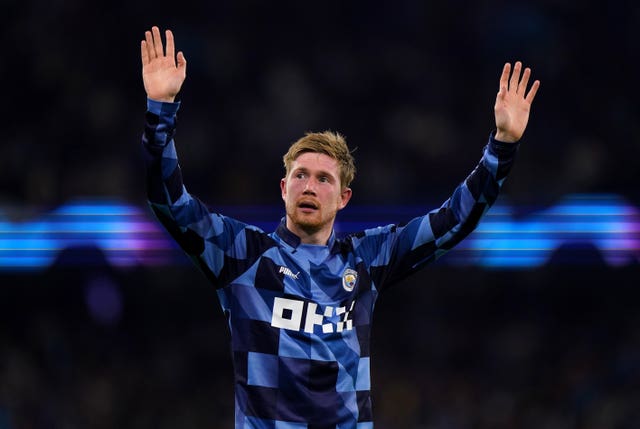 Such is their intensity that Guardiola and key player Kevin De Bruyne shouted at each other during the victory over Real Madrid, and the manager says he has no problems with that.
He said: "The action with Kevin, I love it. We shout at each other. I like it. I like this step from Kevin.
"Sometimes, in some games, it's a little bit flat and I like this energy. This is what we need from him. After that he becomes the best.
"It is not absolutely personal. These things must happen to be competitive and be a good team."