Morgan Knowles has been told to tighten up his discipline or risk costing St Helens their shot at an unprecedented fifth consecutive Super League Grand Final win.
Knowles picked up his fifth ban in eight months on Friday for a late tackle on Tom Inman in the final minutes of Saints' 26-6 win over Championship side Halifax in the sixth round of the Challenge Cup.
The 26-year-old, who was making his return from his latest five-match ban at The Shay, will now miss a further two matches, starting with Friday night's Super League clash with Leeds Rhinos at Headingley.
"I spoke to Morgan individually and obviously he's disappointed and frustrated," said Wellens.
"Morgan is probably the best middle forward in the competition and I wouldn't want to swap him for anybody, but at the same time there are certain aspects of his game that he needs to improve on.
"His challenge is to keep his identity, because what has made him one of the best players in the competition is the fact that he can play tough and physical, but I've sat down with him and defined the areas where he's probably over-stepped the mark."
Wellens knows that Knowles is not the only Saints player who has let himself down in terms of discipline at times this season, in which they struggled to shake off the after-effects of their pre-season world title win in Australia, and sit in seventh place approaching the midway point of the season.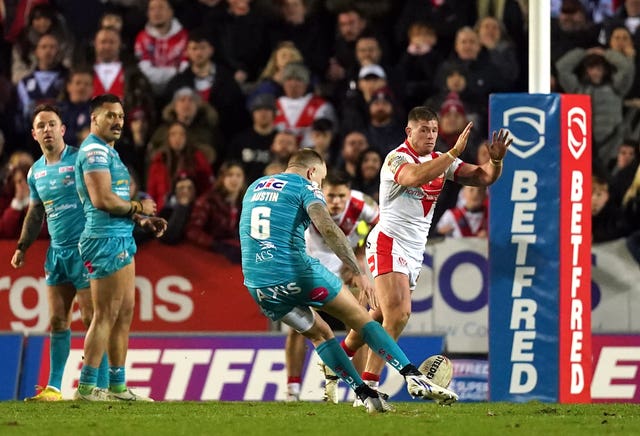 "I've used the incidents from last week and previously to draw a line in the sand in terms of what I expect of the players moving forward. There's a certain moderation of behaviour required if you are going to play the game that way.
"If we'd handled a few areas differently in terms of discipline we'd probably be sitting second or third. That's how important it is to get it right because decisions like that can affect you pretty badly."
Saints travel to face Leeds on Friday in the first meeting between the two sides since Leeds' thrilling 25-24 win at the Totally Wicked Stadium in March.
"We learned from that night that you have got to stay disciplined," said Wellens.
"At some point in that game we were looking really comfortable, but if you drop your standards against Leeds they will punish you. It is a genuinely big game and a really big challenge for us again this week."