Elon Musk has returned to federal court in San Francisco, saying he believed he had locked up financial backing to take Tesla private during 2018 meetings with representatives from Saudi Arabia's Public Investment Fund – although no specific funding amount or price was discussed.
The billionaire Tesla chief executive and Twitter owner is facing a class action lawsuit filed by Tesla investors alleging he misled them with a tweet saying funding was secured to take his electric car company private – for 420 dollars per share.
The tweet resulted in a 40 million dollar (£32 million) settlement with securities regulators after the deal never came close to happening.
The trial hinges on the question of whether a pair of tweets that Mr Musk posted on August 7 2018 damaged Tesla shareholders during a 10-day period leading up to a Musk admission that the buyout he had envisioned was not going to happen.
He added that it was important for jurors to know that he "felt that funding was secured" due to his ownership of "SpaceX stock alone".
"Just as I sold stock in Tesla to buy Twitter. … I didn't want to sell Tesla stock but I did sell Tesla stock," he said of the stock sale to make up for the lack of funding from other sources for his 44 billion dollar (£35.5 billion) deal to take Twitter private.
"My SpaceX shares alone would have meant that funding was secured," Mr Musk said of the 2018 tweets.
Even before Mr Musk entered the witness box on Friday, US District Judge Edward Chen had declared that the jurors can consider those two tweets to be false, leaving them to decide whether Mr Musk deliberately deceived investors and whether his statements saddled them with losses.
Mr Musk has previously contended he entered into the Securities and Exchange Commission (SEC) settlement under duress and maintained he believed he had locked up financial backing for a Tesla buyout during meetings with representatives from Saudi Arabia's Public Investment Fund.
In the first of the 2018 tweets, Mr Musk stated "funding secured" for what would have been a 72 billion dollar (£58 billion) – or 420 dollars per share – buyout of Tesla at a time when the electric carmaker was still grappling with production problems and was worth far less than it is now.
Mr Musk followed up a few hours later with another tweet suggesting a deal was imminent.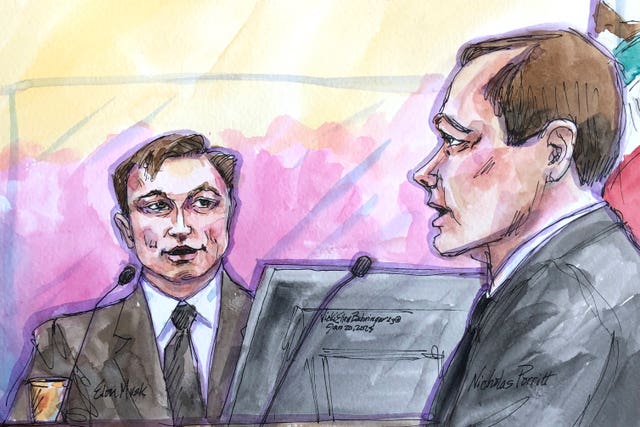 Mr Musk replied he thinks there is "some karma" around the number 420 – which is also a slang reference to marijuana – although he added he does not know "if it's good karma or bad karma at this point".
He then said the number was a "coincidence" and it represented a 20% premium of Tesla's share price at the time.
After it became apparent that the money was not in place to take Tesla private, Mr Musk stepped down as Tesla's chairman while remaining chief executive as part of the SEC settlement, without acknowledging any wrongdoing.
On Friday, Mr Musk had said he thinks it is possible to be "absolutely truthful" on Twitter.
"But can you be comprehensive? Of course not."
On Monday, he again emphasised: "My tweet was truthful, absolutely truthful."
Asked by his lawyer Alex Spiro if he understood the charges against him, Mr Musk said he is being "accused of fraud. It's outrageous".