The launch of SpaceX's Starship – the biggest and most powerful rocket ever developed – has been postponed.
The Starship spacecraft and Super Heavy rocket – collectively referred to as Starship – are a reusable system designed to carry both crew and cargo to Earth orbit, the moon, Mars and beyond.
Elon Musk's SpaceX tweeted: "Standing down from today's flight test attempt; team is working towards next available opportunity."
Another launch attempt is not expected for at least 48 hours, with the billionaire saying there will be a retry in "a few days".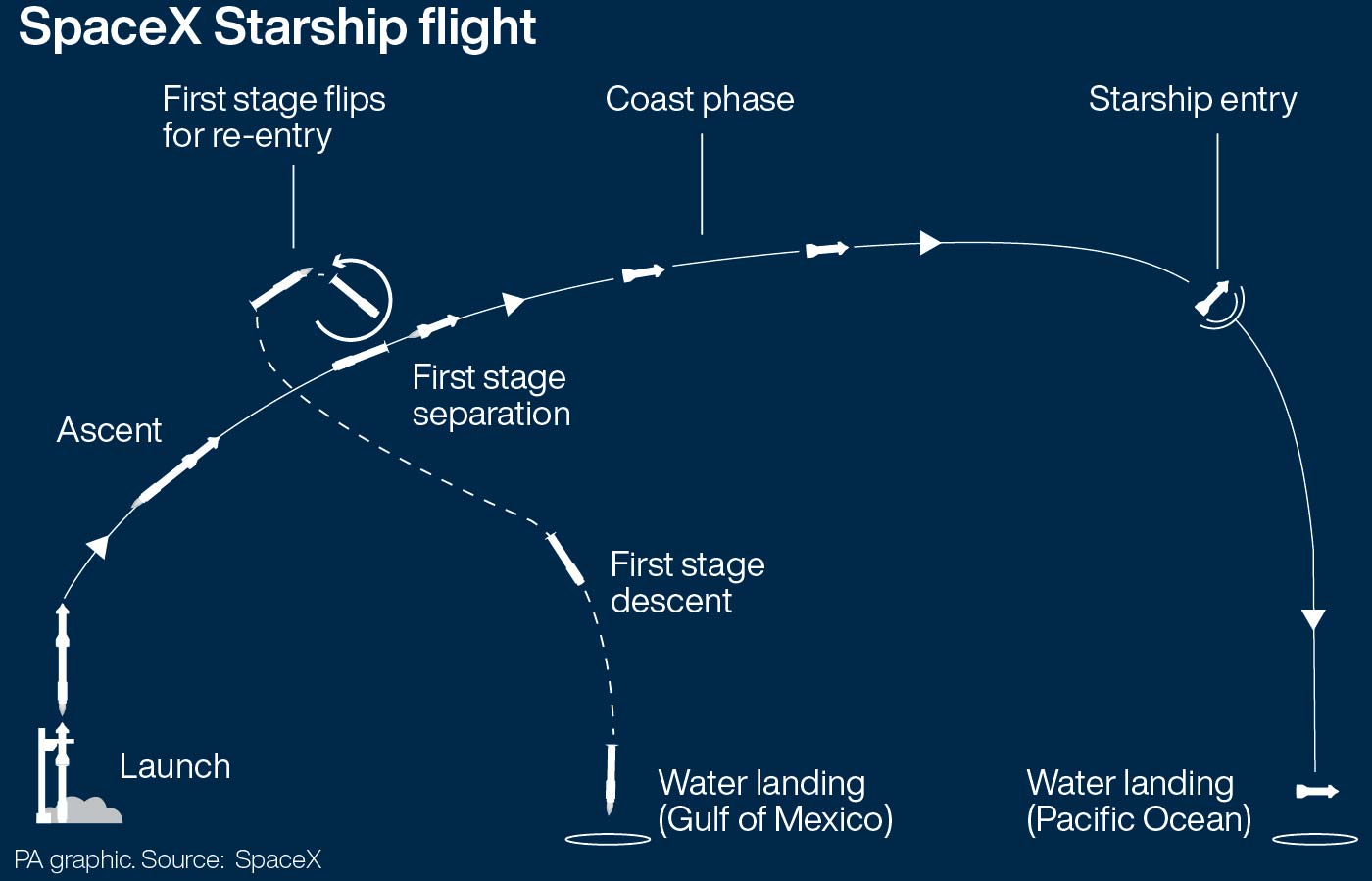 It then continued, and fuelling was completed, as a dress rehearsal.
The stainless steel Starship is 120 metres tall, has 33 engines and 16.7 million pounds of thrust.
SpaceX says Starship will be able to carry up to 100 people on long-duration interplanetary flights.
It will also enable the delivery of satellites and the development of a moon base, and point to point transport on Earth – allowing travel to anywhere in the world in one hour or less.
Super Heavy is the first stage of the launch system and is fully reusable and is designed to re-enter Earth's atmosphere to land back at the launch site.
However, the test flight on Monday would have seen it make a water landing.
The launch was due to take place from SpaceX's Starbase in the US state of Texas, and make a water landing.
Commenting ahead of the launch, British astronaut Tim Peake said: "SpaceX really is thinking big with Starship.
"This is the biggest and most powerful rocket ever built.
"But its ambition goes way beyond its gargantuan size: it is hoped that the rocket will herald a new era of deep space exploration, unlocking the potential for humans to visit other planets.
"This programme could be the launchpad for hugely exciting scientific research.
"I'm convinced that collaboration with commercial operators like SpaceX is vital for pushing the boundaries and enabling this new era of deep space exploration."