Celebrities including actor Charles Dance and explorer Sir Ranulph Fiennes are urging MPs to back a trophy-hunting ban after the Bill was dealt a blow by a so-called "wrecking amendment" from a Tory backbencher.
Campaigners met in Parliament's Westminster Hall on Wednesday to rally support for the legislation, which would stop the import into Britain of body parts from big game animals killed abroad.
Other stars involved include Gary Lineker, Dame Joanna Lumley and conservationist Dr Jane Goodall, who were not present at the event but signed a letter to The Times backing the ban.
But campaigners fear the House of Commons will be left inquorate when the Hunting Trophies (Import Prohibition) Bill is put to a debate on Friday, as many MPs return to their constituencies at the end of the week.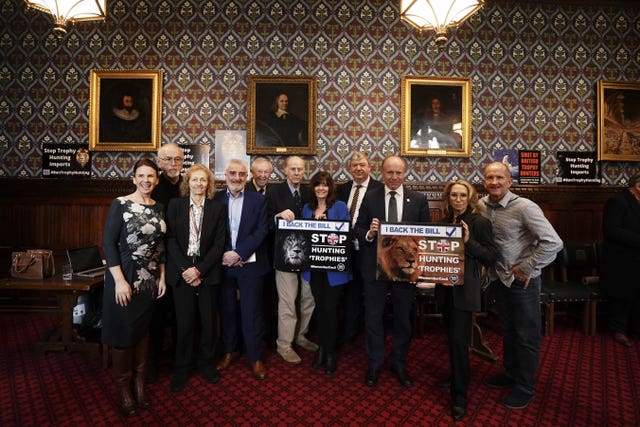 The clause would see British hunters allowed to bring home some of the world's most endangered animals, including black rhinos, according to campaigners.
It is among more than 30 amendments now faced by the legislation, 26 of which were tabled by Conservative backbencher Sir Christopher Chope.
Critics of the Bill say the profits from blood sports are used to pay for conservation projects in African countries where hunting is widespread and ultimately help to protect wildlife.
But Campaign to Ban Trophy Hunting founder Eduardo Goncalves branded this "the most Orwellian argument I've ever heard: killing an animal for kicks and saying it's for the good of the animal and the good of the species".
He added: "This is an absolute affront to democracy. A trophy-hunting ban is backed by nine out of 10 voters.
"If these MPs get their way, British hunters will be able to continue getting away with murder. It is imperative that every MP comes to the chamber on Friday."
He described Sir Bill's intervention as a "wrecking amendment" which would render the Bill "worthless."
He told guests: "You really have to know your enemy so I'm going to talk about the person I consider to be our enemy.
"I was delighted to hear that Christopher Chope is going up against us, tabling a Bill of 26 amendments.
"This makes me very happy when you look at a list of Christopher Chope's achievements over his filibustering career to date, it tells us that Henry Smith's Bill to ban trophy hunting imports into the UK is sound legislation and must become law in its full and current form.
"The simple fact that he has decided to attempt to sabotage our Bill is a compliment to its integrity and moral content.
"All MPs who have any moral fibre must turn up and vote for the Bill to ban trophy-hunting imports into Britain on Friday and stand against immorality and corruption."
Former chief whip Wendy Morton and former environment secretary George Eustice were among prominent Conservative MPs to turn up at the event in Parliament's Jubilee Room on Wednesday.
Ski-jumper Eddie the Eagle and actors Vicki Michelle and Peter Egan also attended to show their support for the ban.
Along with Mr Dance and Sir Ranulph they posed for photographs holding banners reading "I Back the Bill" with the hastag #RememberCecil, a reference to the African lion who was killed by an American hunter in Zimbabwe in 2015.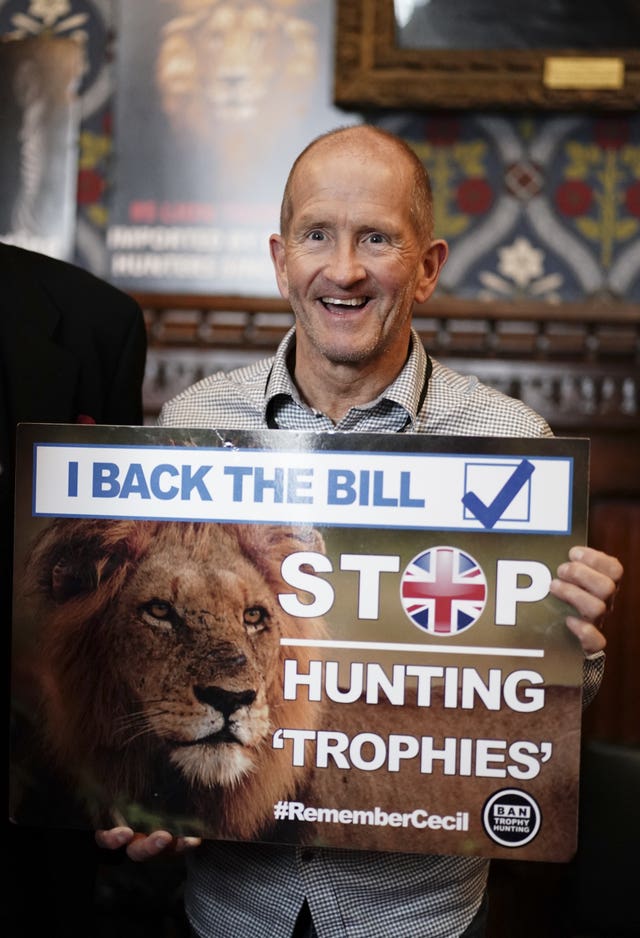 The proposed law will prevent British big game hunters from bringing home body parts of some 7,000 species including lions, rhinos, elephants and polar bears.
Following the event, the high commissions of Namibia, South Africa, Zambia and Botswana in London issued a joint statement in favour of hunting in Africa practised "sustainably".
"What advocates for a UK ban on the importation of hunting trophies should appreciate is that hunting in Africa, when practised sustainably, feeds families, puts children through school, funds anti-poaching units and, ultimately, secures the long-term viability of the habitats and species we all care about so much," the statement said.
It comes after reports that some African nations were angered by a lack of discussion over the proposed legislation.
Mr Goncalves has said the consultation stage of the Bill heard widely from African governments and that conservationists based in Africa have expressed overwhelming support for it.
He said earlier on Wednesday: "When I hear these people on the other side say this Bill is neocolonialist, please, can anyone tell me if there's a better definition of colonialism than white people flying to Africa and saying 'I'm going to shoot all these animals for fun, it's my right to do so'?
"This may be one of the most powerful political lobbies that the Earth has ever seen. That makes it even more important that we stand up to them."