Britain will have a "great deal of freedom" to negotiate a trade deal with the United States under Theresa May's Brexit plan, International Trade Secretary Liam Fox has said.
Following the Prime Minister's meeting with President Donald Trump at Chequers, Dr Fox said "very positive" discussions had been taking place with US officials on a future deal after Britain has left the EU.
In his joint press conference with Mrs May on Friday, President Trump appeared to row back on an earlier newspaper interview in which he said the Government's latest proposals would kill off the prospect of a deal with the US.
Dr Fox said that ministers had been able to explain details of their plan – which would see Britain maintain a "common rule book" with the EU covering standards for trade in goods – during their meetings with the president and his officials.
He said the plan would enable the UK to offer much greater access to US goods than the EU was prepared to allow.
At the same time, he stressed that Britain would not admit US agricultural products that did not meet current standards.
"We will have complete freedom in terms of market access of how much of those approved goods come into the United Kingdom, so if we want to reduce the tariff, for example, on American cars we would have the freedom to do so," he told the BBC Radio 4 Today programme.
"That is essentially what we would be able to offer in any trade agreement. We would be able to offer much freer market access than the European Union would.
"The standards would be the same. That therefore removes the need for inspection at the border. But in terms of market access the United Kingdom would have a great deal of freedom."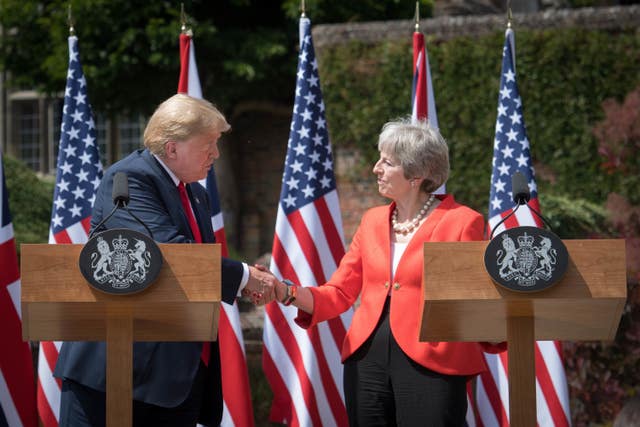 "We are making a realistic and positive offer to the European Union. I hope we will get their support because what we need to have is a people's Brexit, not a bureaucrat's Brexit," he said.
"We now need to think about the well-being of people across Europe, about their prosperity, their jobs, their security, and not about the abstractions of the bureaucrats of Brussels.
"I think most people in Britain will think this is that this is a fair, pragmatic and reasonable approach."
However, the former permanent secretary at the Department for International Trade, Sir Martin Donnelly, warned the UK would have to give more ground if it wanted a deal with Brussels.
"If we want to have a lot of scope to do trade deals around the world it is going to be very difficult to have a close relationship with the European Union. That's the key trade-off that we have got to deal with," he told the Today programme.
"It is going to come down, I think, to how far the UK is prepared to follow the same rules and take on the same obligations as others in the European Union to retain access to that market. If we don't want to do that, clearly we have got more scope to do trade deals internationally.
"The problem is of course that most of our trade in goods, and especially in services, is with the European Union and the problem for business is that, if we start putting up barriers on that trade with Europe, then the effect on investment – and we are already seeing this – and therefore British jobs becomes very serious.
"If we want to have a lot of access to Europe, it is more difficult to do trade deals around the world. You can't really have it both ways.
"I think the UK is going to have to be prepared to move quite a lot further if it really wants to maintain that access which is so important for business in goods and also in services."