Anti-Brexit campaigner Gina Miller has told the Liberal Democrat party conference she is not their leader-in-waiting.
Insisting she was not political, Ms Miller defended liberal values and attacked Conservatives and Labour, saying she did not know anything about the SNP stance on Brexit.
With 193 days to go until the official Brexit date, Ms Miller told delegates her new group, End The Chaos, would "challenge" the hard Brexiteers no-deal tour of the UK.
"Though I'm politically independent I'm here to cheer you on," she said.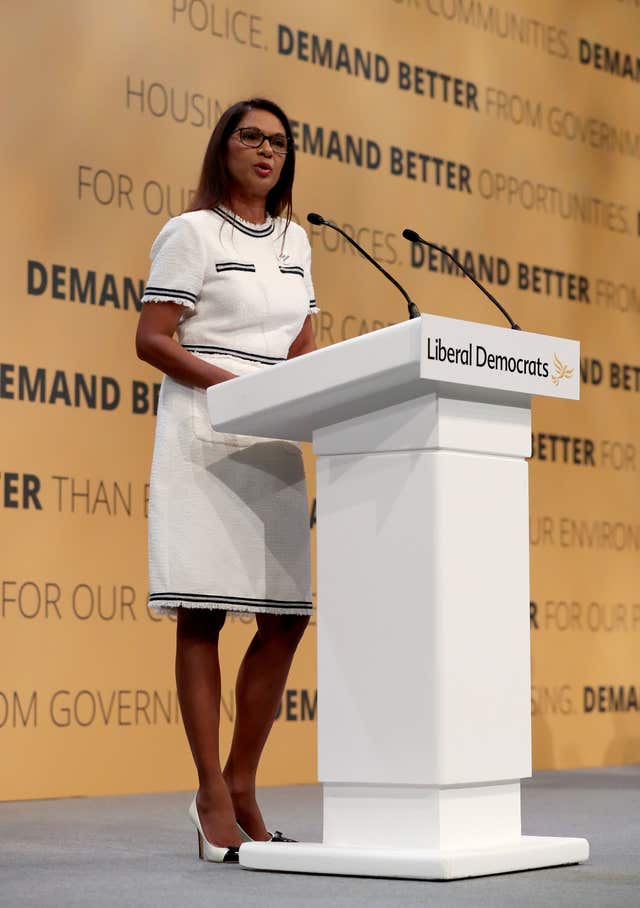 "We must offer hope, and recognise we must defend liberal values of opportunity, tolerance, respect  and humanity – above all, humanity."
Ms Miller warned of "the fascism of the left" as she praised voices from the centre.
"The fascism of the left is every bit as terrifying as the destructive fascism of the right," she told conference.
"Liberalism has become a dirty word in the mouth of both the extreme right and the extreme left.
"It interferes with their cold and hard ideologies, both of which abhor the freedom of the individual."
When asked by journalists if she would rule out being leader of the Lib Dems or joining the party, she said "never say never".
Attacking the People's Vote campaign as being unclear, she said a second referendum should have three options – the Government's deal, remaining in the EU and a no-deal.
"I don't like the phrase People's Vote and I don't know how people can tell that's not a general election," she said.
She defended her plans for a second referendum, as she claimed the first referendum was "corrupt", before calling for an amnesty after the second to prevent a third referendum in quick succession.
"Whatever the outcome, we want to draw a line," she said.
"I think the first was a corrupt vote – if we have a clean vote that answers that."