Millions of Americans have voted at 2018 midterm elections, which many believe will be a crucial verdict on President Donald Trump's first two years in office.
But what are the midterm elections and why are they important?
What are the midterm elections?
Midterm elections occur halfway through each four-year presidential term of office, with key seats in both the houses of the United States Congress up for grabs.
All 435 seats in the lower chamber House of Representatives and 35 of the 100 upper chamber Senate seats will be at stake.
House of Representatives members serve two-year terms representing the people of a single constituency, while each state has two senators.
This year there are a record number of women on the ballot, which could significantly increase the number of women in elected office from a fifth of the 535 seats across both chambers.
There are also elections for 36 of the 50 state governors.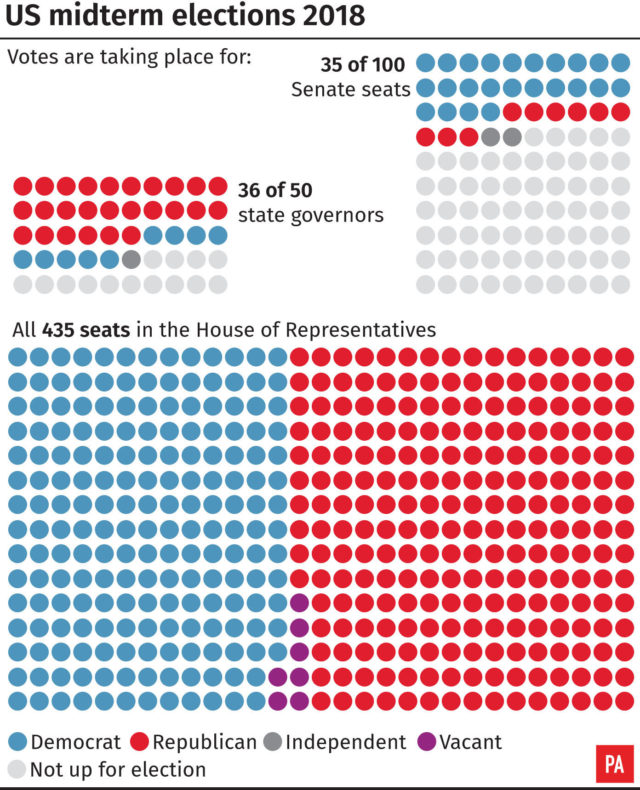 There are around 250 million Americans who are eligible to vote, but turnout in midterm elections is typically about 40%. This is much lower than presidential elections, where turnout has hit around 60% in recent contests.
The elections will mark the first nationwide vote since Russia targeted state election systems in the 2016 US presidential race but federal, state and local officials have sought to reassure the public that their voting systems are secure.
So far, there have been no signs that Russia or any other foreign agency has tried to launch cyber-attacks against voting systems in any state, according to federal authorities.
Republicans have had control of the House of Representatives since the 2010 midterms during Barack Obama's first term as president.
The Grand Old Party (GOP) also controls the US Senate, with 51 of 100 seats.
But with Mr Trump's first two years in office dividing opinion across the country, Democrats see these elections as a chance to take back control of both chambers of Congress from the Republicans. This will leave President Trump unable to pass key laws through the houses.
In order to take back control of the House, Democrats need to win 23 more seats, a number that many believe is very possible.
But while the party only needs two more seats to take control of the Senate, this is likely to be a much tougher challenge for the Democrats.
How close are the elections going to be?
Control of the House of Representatives is expected to be determined by a few dozen districts, many of them in the nation's suburbs, and will offer clues to where Americans stand in 2018 on immigration, guns, healthcare and gender equality in the #MeToo era.
But the battle for the 35 Senate seats is expected to favour the Republicans because many of the contests are in states Mr Trump won in 2016.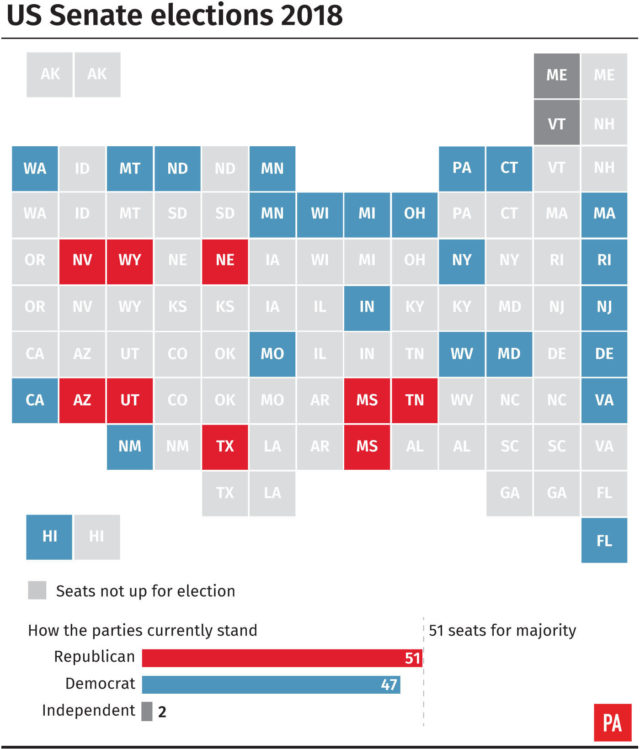 What is going to happen?
The night could witness a generational change in the US Congress and herald a number of barrier-breaking officeholders.
In New York City, 29-year-old Alexandria Ocasio-Cortez is expected to become the youngest woman elected to congress while Ayanna Pressley is the favourite to become Massachusetts' first black woman elected to congress.
In Michigan, Rashida Tlaib could become the first Muslim woman and first Palestinian-American in Congress. She could be joined by Minnesota's Ilhan Omar, who is also trying to become the first Muslim woman elected to Congress along with the first Somali-American elected to the House.
No matter which way the voting goes, Arizona's Senate race expects to make history. Democrat Kyrsten Sinema could become the first openly bisexual senator and the state's first female senator. If Republican Martha McSally wins, she will become Arizona's first female senator.
What has President Trump being saying?
The US president has staged a number of rallies across the country, and on election day he will be making a series of media appearances. Mr Trump is well known for his candid views expressed on Twitter, so anyone with a close eye on proceedings will be watching his feed.