Arsenal boss Arsene Wenger admits Troy Deeney's "cojones" comment gave his side extra motivation to beat Watford and return to winning ways in the Premier League.
Goals from Shkodran Mustafi, Pierre-Emerick Aubameyang and Henrikh Mkhitaryan ensured the Gunners stopped a three-game losing streak in the league in a 3-0 victory and also made Deeney eat his words.
In the wake of Watford's win over Arsenal in October's reverse fixture, Deeney suggested that the Gunners lacked a "bit of cojones, a bit of nuts", but it was the Hornets striker who had a difficult afternoon this time around as he missed a second-half penalty in a comprehensive defeat.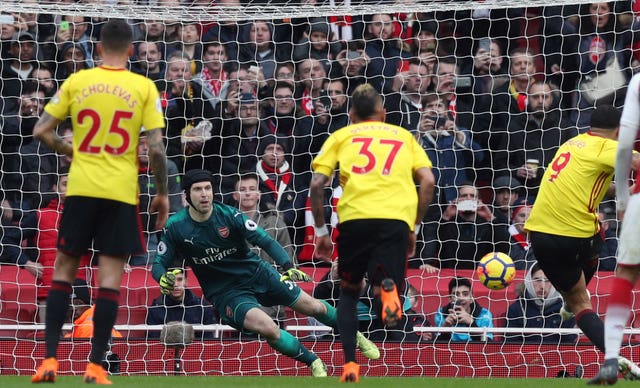 "You cannot be a footballer without pride, or any sportsman without pride," he said.
"All these things come in, for how much I don't know, but of course it plays a part.
"I wanted to absolutely win this game, it was difficult, but it gets us out of that negative spirit that we were in.
"We need more games, we had a nightmare week, overall there is some work still to do.
"I don't know how much negativity is out there, I focus on my job, I have shown in 22 years that I can do that and that I respect everybody's opinion but I focus on my job with total commitment."
Although Arsenal did breeze to the points in the end, they were reliant on goalkeeper Petr Cech who saved Deeney's second-half spot-kick along with several other key stops.
It was the veteran's 200th clean sheet in the Premier League and Wenger paid tribute.
"It has highlighted what Petr Cech has done in his career, 200 clean sheets is remarkable and he has saved a penalty on top of that," he added.
"It is quite fortunate that it is against Deeney and on top of that to get the clean sheet.
"His situation shows how football is, in one week he has gone from hell to heaven.
Cech has had to wait 12 games to bring up his double century of clean sheets, though Watford boss Javi Gracia is scratching his head at how he managed it.
The Hornets had chances to level in the first half, though none were as good as Deeney's opportunity from the spot after the break.
And the Spaniard refused to contemplate whether Deeney regretted his comments.
"Troy before the match was concentrating on playing well, to help the team," Gracia said.
"He had the chance to score the penalty, he didn't do it. I don't know what he is thinking about.
"I can say what I feel and I am responsible for my words. I respect all of the teams, Arsenal as well, I have nothing to say.
"I am disappointed because I can't believe that we didn't score a goal."