Rihanna has said she is "excited to actually put new music out" but does not have any further "updates" for fans in her first interview to air following her Super Bowl half-time show.
The Barbadian singer, 34, delivered a hit-laden set on Sunday dressed in a red jumpsuit – and also confirmed her second pregnancy, nine months after the birth of her son in May 2022.
Speaking to Good Morning America in an interview that was recorded before her performance but aired on Monday, she spoke about calls for her long-awaited album to be released.
Her last studio album, Anti, was released in January 2016.
She said: "They (the fans) are waiting. I am excited to actually put new music out but I don't have any updates for you on that yet."
Asked by host Michael Strahan if she was able to remain relaxed about performing in front of such huge audiences, she replied: "I have not been able to do that.
"Still, to this day, the camera represents so many people, a huge audience. And the camera at a Super Bowl is one of the biggest audiences."
Rihanna returned to music last year with the single Lift Me Up, recorded for the film Black Panther: Wakanda Forever.
Referring to its director, she said: "Ryan Coogler, he reached out to me and he asked if I would be interested in doing a song for the film.
"When I saw the film, I felt like, this is so powerful. The sense of motherhood and how much strength that embodies. I felt that when I watched the film and it hit me."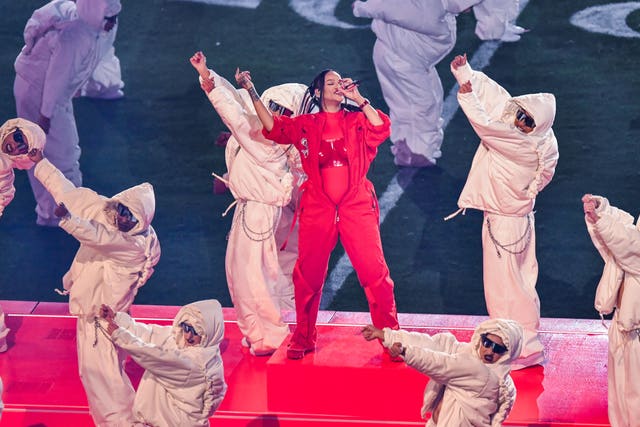 Showing off a pronounced baby bump at the beginning of the performance, she rubbed her hand over her stomach while launching into a selection of hits from her catalogue, including Bitch Better Have My Money, We Found Love and Umbrella, as well as two tracks she recorded with controversial rapper Kanye West – played back to back.
West, who has come under fire over a series of antisemitic remarks, featured on Run This Town, which was written by her former mentor Jay-Z.
Rihanna also sang on his track All Of The Lights, which is included on 2011 album My Dark Twisted Fantasy.
The 13-minute set also included recognisable hit songs Only Girl (In The World), Rude Boy, Work and Wild Thoughts.
Strobe lights and fireworks punctuated the show, and the singer wore a long red coat to finish with hit Diamonds from her 2012 album Unapologetic.
Famous faces spotted among the crowd in the 63,000-seat stadium included Jay-Z, Floyd Mayweather, Adele, and Sir Paul McCartney – who headlined the Super Bowl halftime show himself in 2005.
The Kansas City Chiefs engineered a second-half comeback to defeat the Philadelphia Eagles 38-35 and claim their second Super Bowl in four years at the State Farm Stadium in Glendale, Arizona on Sunday.