Australian entertainer Barry Humphries has been remembered as "a great creative artist" and "comic genius" following his death at the age of 89. 
During a seven-decade career, the stage and screen veteran entertained generations with satirical characters including Dame Edna Everage, Sir Les Patterson and Sandy Stone.
Humphries, who had been readmitted to St Vincent's Hospital in Sydney, Australia, after complications following hip surgery, died on Saturday evening local time (11am GMT), according to hospital spokesman David Faktor.
"With over ​70 years on the stage, he was an entertainer to his core, touring up until the last year of his life and planning more shows that will sadly never be.
​"​His audiences were precious to him, and he never took them for granted.
"Although he may be best remembered for his work in theatre, he was a painter, author, poet, and a collector and lover of ​a​​​​rt in all its forms.​
"He was also a loving and devoted husband, father, grandfather, and a friend and confidant to many. His passing leaves a void in so many lives.
"The characters he created, which brought laughter to millions, will live on."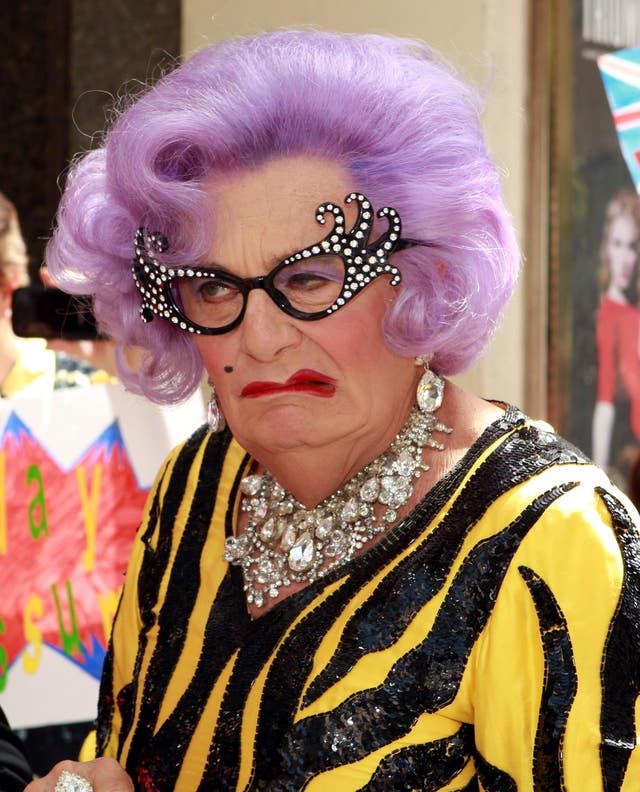 He was among the leading members of the British comedy scene, alongside Dudley Moore, Alan Bennett and Spike Milligan.
Dame Esther Rantzen told the PA news agency that "the world is just that bit sadder" following the death of her friend.
"My memory of Dame Edna Everage goes back to when she was a mere Mrs, she was even then a superstar.
"She was dressed by BBC's rather frumpy stock wardrobe but, of course, she turned into a butterfly and obviously achieved damehood.
"She influenced me greatly. When I was lucky enough to be honoured with damehood, I was very frequently introduced as Dame Edna because it became a phrase which came naturally, and I was thrilled.
"Barry was cultured and clever and a voracious reader and all the things that Sir Les Patterson not. A great creative artist."
She told PA: "(The manager) said the interesting thing was that Barry couldn't stand heights, so couldn't rehearse that, but Dame Edna had no fear and got straight into the machinery and had to be persuaded to wear a safety harness to keep her safe.
"It was the most wonderful transformation," Dame Esther added.
At Elizabeth II's Golden Jubilee concert in 2002, Dame Edna introduced the Queen, taking her place in the royal box, by bellowing: "The Jubilee Girl is here, possums."
The monarch was greeted with rapturous cheers.
Dame Esther was among hundreds who were remembering the late entertainer – including comedians Rob Brydon and Matt Lucas, former prime minister Boris Johnson and Australian Prime Minister Anthony Albanese, and broadcasters Andrew Neil and Sir Michael Parkinson.
He said: "Barry was a cultured, highly intelligent, fascinating man who just happened to create, in Dame Edna Everage, one of the everlasting comedy characters of all time as well as one of my favourite guests on my talk show.
"In a time when the word is bandied around far too easily, we have truly lost a genius. I shall miss him and the Dame in equal measure. So will we all."
Meanwhile, journalist Neil remembered the "funny, hugely literate, fiercely smart" Humphries, tweeting that he had visited him in hospital two weeks ago.
He said: "I count myself lucky and privileged I got to see him one more time. A comic genius the likes of which we will never see again."
Mr Albanese described Humphries as "the brightest star" in "a galaxy of personas", referencing both Dame Edna Everage and Sandy Stone.
Meanwhile, former British prime minister Mr Johnson tweeted: "RIP Barry Humphries – one of the greatest ever Australians – and a comic genius who used his exuberant alter egos, Dame Edna Everage and Sir Les Patterson, to say the otherwise unsayable."