The safety protocol which encouraged residents to "stay put" inside the burning Grenfell Tower was ditched nearly two hours after the blaze took hold, it has been claimed.
Many victims had their fate sealed by heeding the building's policy to remain in their flats in the event of a fire as the 24-storey building turned into a pyre on June 14, on the basis that the individual units were designed to withstand any threat to life.
It reported that the fire brigade's message to stricken residents changed at 2.47am on the night of the fire, 1 hour and 53 minutes after the first 999 call. That initial advice is one of the strands of the police investigation into the disaster.
The claims come as London mayor Sadiq Khan prepares to appear before the London Assembly on Thursday to tell members what lessons have been learnt from the tragedy.
On Wednesday, hundreds of mourners gathered at a wall plastered in tributes in the west London neighbourhood to mark four weeks since the blaze.
Among those at the vigil was Emma Dent Coad, the newly elected MP for the area, who told the Press Association: "It is still chaotic, the whole process of housing people, getting them social housing, mental health help, whatever other help they are getting, obviously the people who aren't getting help come to me.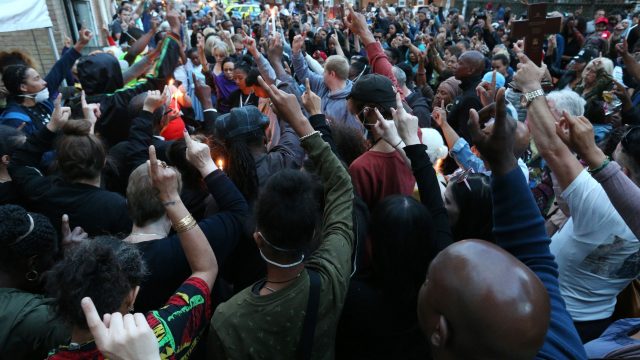 "It's disgraceful, actually, the council are still failing people every day."
Earlier, a public meeting between the leader of Kensington and Chelsea Council, the police and residents descended into chaos as anger about the progress of the police investigation boiled over.
Senior investigating officer Matt Bonner was met with cries of "arrest someone" as he said the investigation would "not be quick but it would be thorough".
Kensington and Chelsea Council's new leader Elizabeth Campbell was heckled by one audience member.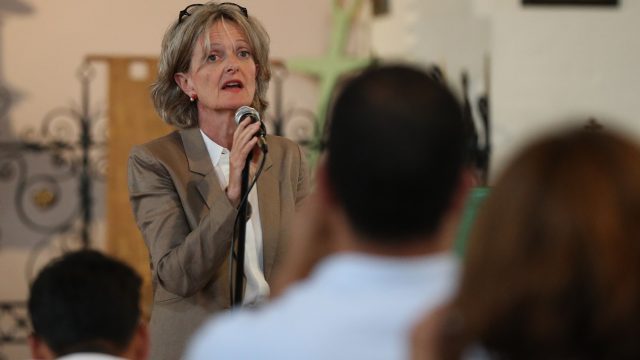 The authority at the heart of the disaster faced a fresh row after she admitted she had not been into the high-rise council blocks before.
Coroner Dr Fiona Wilcox revealed 34 of at least 80 people believed to died in the fire have been formally identified, as 10 more inquests were opened and adjourned at Westminster Coroner's Court on Wednesday.
She has suspended all 30 inquests held so far while a public inquiry and criminal investigation are carried out.