The leader and deputy leader of far-right group Britain First have been charged with religiously aggravated harassment.
Kent Police said Paul Golding, 35, and Jayda Fransen, 31, both from Penge, south east London, were arrested in May as part of an investigation into the distribution of leaflets and the posting of online videos during a trial held at Canterbury Crown Court the same month.
The trial involved three Muslim men and a teenager who were eventually convicted of rape and jailed.
Kent Police said Fransen had been charged with four counts of causing religiously aggravated harassment and Golding three counts. Both were been bailed to appear before Medway magistrates on October 17.
The former leader of the English Defence League (EDL) was given a suspended prison sentence for contempt of court in May after filming outside the court during the same rape trial.
In a video posted online, Tommy Robinson filmed himself describing the defendants, who had not yet been convicted, as "paedophiles" and claiming: "It's going on across our country."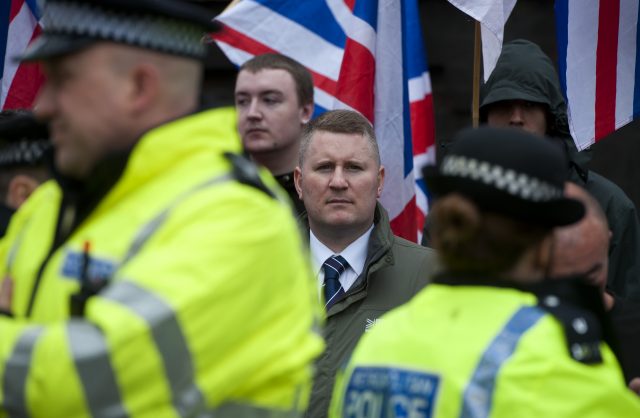 Shortly before entering the police station, Golding and Fransen filmed themselves vowing to "never give up" on "standing up for the British people".
Golding said in the Facebook Live footage: "It doesn't matter what happens today or what happens in the future, you can rest assured that you have two political party leaders here who will never give up under any circumstances.
"We will fight to the bitter end for our country and we will never surrender, we will never give up."
The maximum penalty on conviction of religiously aggravated harassment is two years' imprisonment.