Police hunting thieves who blew up a cash machine in a large explosion which rocked homes said it was too early to say if any cash was stolen.
It happened at a Co-operative Bank cashpoint outside the Matalan outlet on Neasham Road, Darlington, at around 1.20am.
Debris, including anti-ram raid bollards, was sent flying across the car park as the blast destroyed the kiosk
"It is not yet known if the suspects managed to get away with any cash as investigations are in the early stages."
Police swiftly reassured people overnight that the explosion was not terror-related.
Detectives think a car sped away from the scene and they appealed for witnesses to ring 101.
Locals reported feeling the blast "over two miles away".
Resident Harry Chown, 28, told the Press Association that he was woken at around 1am by a "violent explosion which shook my house".
He added: "It looks like thieves have gone overkill on explosives whilst trying to blow open a standalone ATM.
"It's been obliterated and flattened trees and signs and scattered debris everywhere. Social media suggests people two miles away heard it which explains why my house shook so violently only 150m away."
Mr Chown said the explosion had "shoved" the kiosk containing the ATM "10 metres along the car park".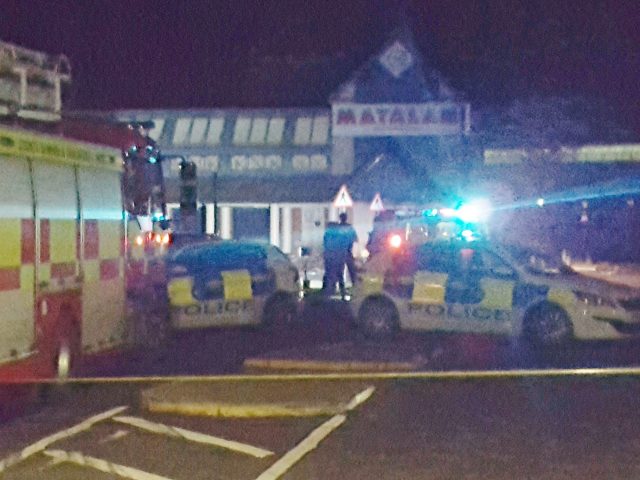 Locals wrote on social media that they had felt the blast at the store, which is close to the town's train station.
Kerry Moor wrote on Facebook that she was "over two miles away and our house shook", while James Cummings said: "I live directly across from there and was awake at the time and the shock of the explosion shook my house and knocked me out of my bed."