One woman was taken to hospital after the world's largest aircraft, Airlander 10, came loose from its moorings causing its hull to rip and deflate.
The part-plane, part-airship, which is the length of a football pitch, lays collapsed in Cardington Airfield in Bedfordshire after the mishap at around 9.30am on Saturday.
It is the latest accident to befall the aircraft, which carried out its first flight in May since crashing in August last year.
The firm said: "The aircraft was not flying at the time of the incident. Our initial assessment is that the aircraft broke free from its mooring mast for reasons that will be investigated.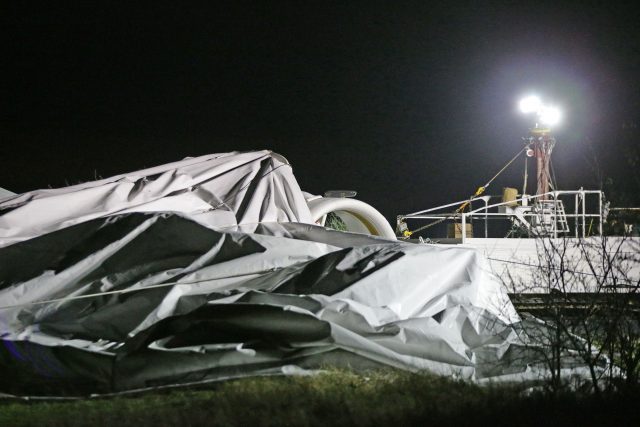 "The aircraft has a safety system which operates automatically in circumstances of the aircraft breaking free of its mast, and is designed to rip open the hull and deflate the aircraft.
"This is a safety feature to ensure our aircraft minimises any potential damage to its surroundings in these circumstances. The aircraft is now deflated and secure on the edge of the airfield. The fuel and helium inside the Airlander have been made safe."
HAV said a woman member of its staff suffered minor injuries in the incident and she was taken to hospital as a "precaution" before being discharged.
Another member of staff also sustained minor injuries while dealing with the aftermath, the firm added.
"We are testing a brand new type of aircraft and incidents of this nature can occur during this phase of development," HAV said.
"We will assess the cause of the incident and the extent of repairs needed to the aircraft in the next few weeks."
No-one was injured when the aircraft – which is about 50ft (15 metres) longer than the biggest passenger jets – nose-dived and crashed in the summer of 2016, but the cockpit was severely damaged.
The Airlander uses helium to become airborne and can carry 10 tonnes of cargo.
It is 302ft (92 metres) long, 143ft (44 metres) wide, 85ft (26 metres) high and can travel at 92mph.
HAV believes it could be used for a variety of functions, such as surveillance, communications, delivering aid and even passenger travel.