Facebook is making major changes to its news feed, prioritising posts from family and friends and reducing those from media organisations, businesses and brands.
The move is an attempt to make time spent on the platform "more meaningful" for its more than two billion members, founder Mark Zuckerberg said in a post on the site.
News, brand and video content has "exploded" in recent years, "crowding out the personal moments that lead us to connect more with each other", according to Mr Zuckerberg.
The Facebook CEO wrote: "The research shows that when we use social media to connect with people we care about, it can be good for our well-being.
"We can feel more connected and less lonely, and that correlates with long term measures of happiness and health.
"On the other hand, passively reading articles or watching videos — even if they're entertaining or informative — may not be as good."
Matt Navarra, director of social media at technology news site The Next Web, said publishing brands that were too reliant on Facebook for audience would have concerns about their bottom line.
"For those less prepared, this news will cause some anxiety. The publishing industry has been notoriously slow to adapt to the rapid and constant changes brought about by social media platforms," he said.
Mr Navarra said: "The downranking of publishers' content in news feed is not likely to kill any publishers in the short or medium term, but it will add more reasons for them to think about how they make money, and whether a subscription-based business model is now the way to go as another big chunk of its traffic disappears and on-site ad revenue evaporates."
However, he added: "The biggest winner out of this are users wishing to connect with friends and family. These changes are aimed to improve Facebook for exactly this purpose."
Press Association analysis of data from social media analytics company Newswhip revealed a huge fall in engagements – a combination of reactions, comments and shares – for many of the UK's biggest news websites towards the end of 2017.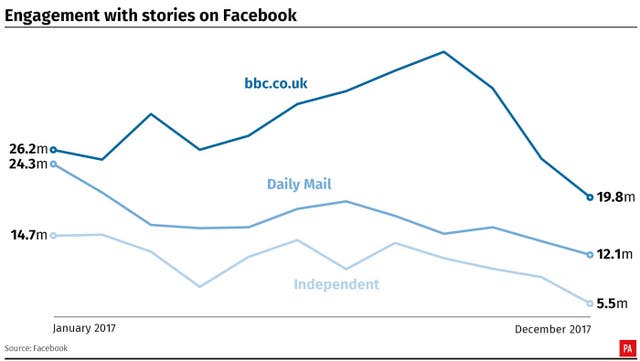 Mr Zuckerberg, who last week said his "personal challenge" for 2018 was to fix Facebook, said people may spend less time on the social network as a result of the changes.