Top bosses at Carillion are to be investigated after the construction firm's collapse put thousands of jobs at risk and saw the Government heavily criticised for its role in the debacle.
A last ditch plea from Carillion to the Government to provide it with a £20 million lifeline fell on deaf ears over the weekend, triggering a compulsory liquidation to be overseen by PwC.
Carillion has public sector or public/private partnership contracts worth £1.7 billion, including providing school dinners, cleaning and catering at NHS hospitals, construction work on rail projects such as HS2 and maintaining 50,000 army base homes for the Ministry of Defence.
But it has seen its shares price plunge more than 70% in the past six months after issuing a string of profit warnings and breaching its financial covenants.
David Lidington, the Cabinet Office minister, told Parliament on Monday afternoon that the Official Receiver will now investigate the role of the company's former and current directors in its collapse, warning they could face "severe penalties".
It comes amid growing anger at bumper payouts received by the firm's former chief executive Richard Howson.
He pocketed £1.5 million in salary, bonuses and pension payments during 2016 and, as part of his departure deal, Carillion agreed to keep paying him a £660,000 salary and £28,000 in benefits until October.
Liberal Democrat leader Sir Vince Cable said that the former chief executive "still being paid his salary, plus perks and bonuses" is a "reward for failure that has to be looked into".
Former finance chief Zafar Khan, who left Carillion in September, will receive £425,000 in base salary for 12 months.
Interim chief executive Keith Cochrane will be paid his £750,000 salary until July, despite leaving the company in February.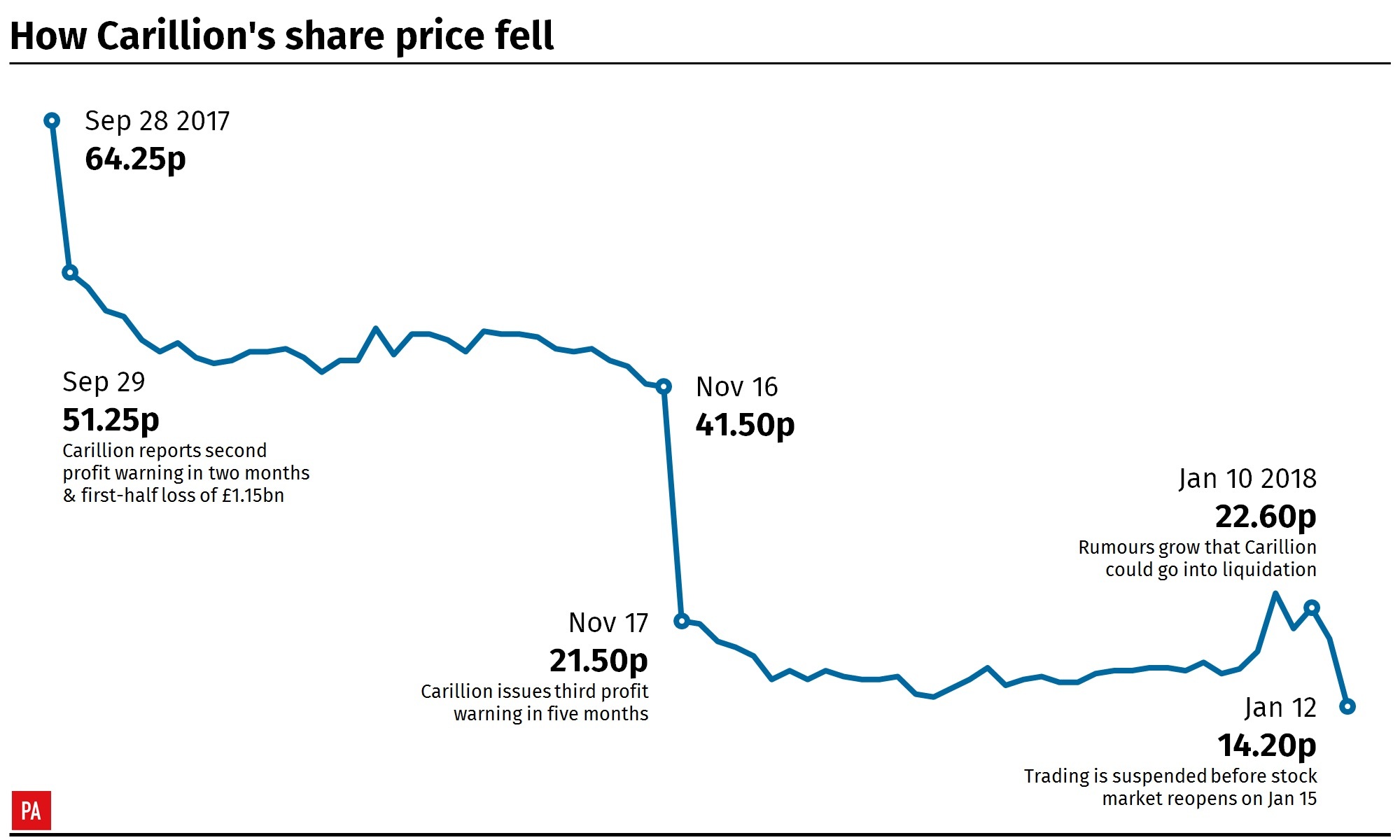 He added that there would be some additional burden on the taxpayer from the cost of the receiver.
But Mr Lidington insisted that Carillion's failure will see "shareholders and lenders bear the brunt" of the pain, rather than taxpayers.
Shareholders will be wiped out and lenders including HSBC, Barclays, Santander and Royal Bank of Scotland are reportedly set to lose an estimated £2 billion as a result of the collapse.
Asked whether it had been a mistake to continue awarding contracts to Carillion, the PM's spokesman said: "Since July, we have kept a very close eye on this, but of course if there are lessons which can be learned, they will be.
"The receiver will carry out a full investigation and we will look at the findings."
Steve Webb, the former pensions minister, also questioned why the company had increased its dividend payments when it was grappling with a hefty pension deficit.
In a tweet, he wrote: "2016 Carillion annual report says dividend 'has increased in each of 16 years since formation of company'; Is this really acceptable alongside a pension fund deficit over half a billion pounds?"
Carillion retirees already receiving their pensions will continue to receive payments, the Government has assured.
However, there are around 27,000 staff involved in its defined benefit schemes which are likely to be transferred to the Pension Protection Fund (PPF).
A spokesman from the PPF said: "We want to reassure members of Carillion's defined benefit pension schemes that their benefits continue to be protected by the PPF and will continue to be protected if or when their scheme enters the PPF assessment period."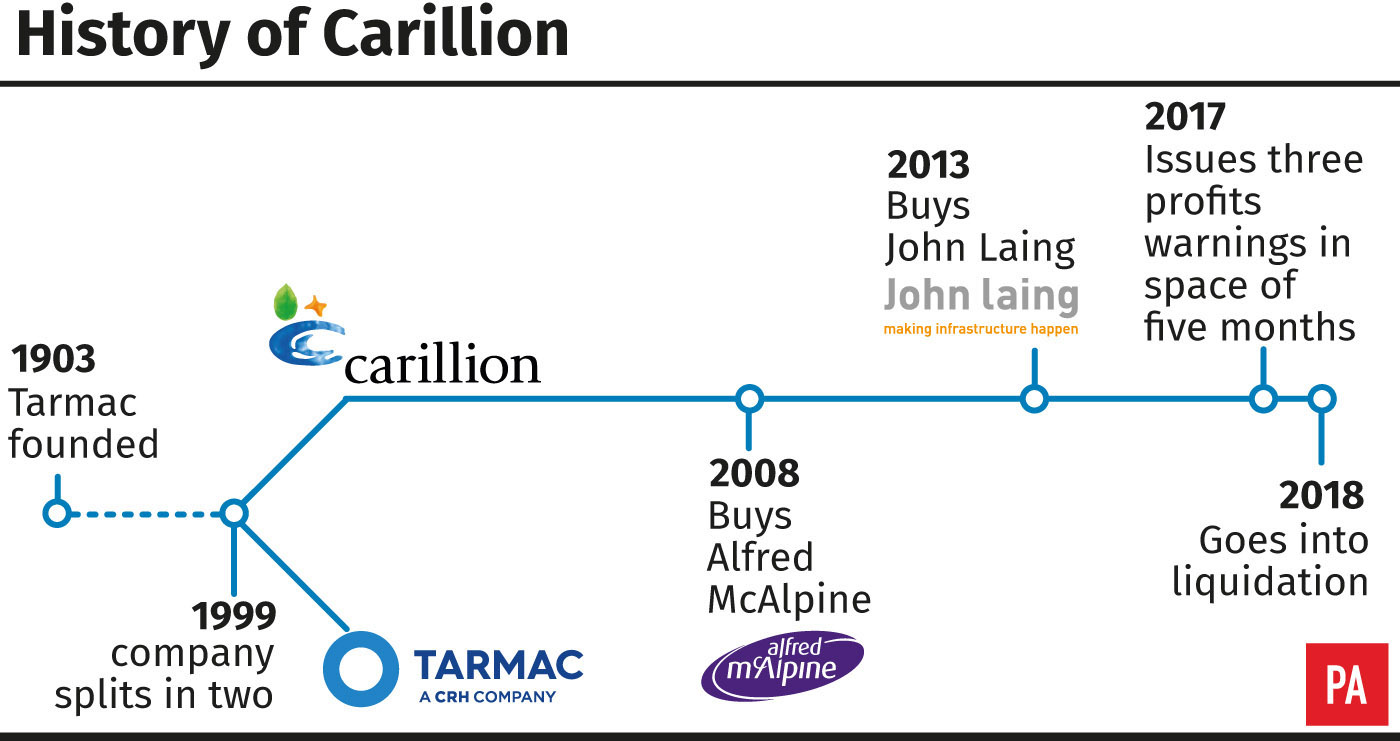 History of Carillion (PA Graphics)
Unions have called for urgent reassurances over the jobs, pay and pensions of thousands of workers following the "disastrous" news.
Rail, Maritime and Transport union general secretary Mick Cash said: "The blame for this lies squarely with the Government who are obsessed with outsourcing key works to these high-risk private enterprises."
Jim Kennedy, the Unite union's national officer for local government, said a public inquiry was needed to answer questions about Carillion's conduct and the Government's decision to award it contracts.
Mr Lidington said it was "regrettable" that Carillion could not find suitable financing options, but taxpayers could not be expected to bail out a private sector company.
Shadow business secretary Rebecca Long-Bailey said there were "extreme concerns" about the Government's handling of the situation and said Whitehall should take Carillion contracts back in-house.