A young soldier who died at the notorious Deepcut army barracks told his sister he was "shackled" and "humiliated" at the base, a fresh inquest heard.
Private Sean Benton, 20, was found with five bullets in his chest in June 1995, shortly after he had been told he was to be discharged from the army.
He was the first of four young soldiers to die of gunshot wounds at the Surrey barracks between 1995 and 2002, and a fresh inquest into his death began at Woking Coroner's Court on Wednesday.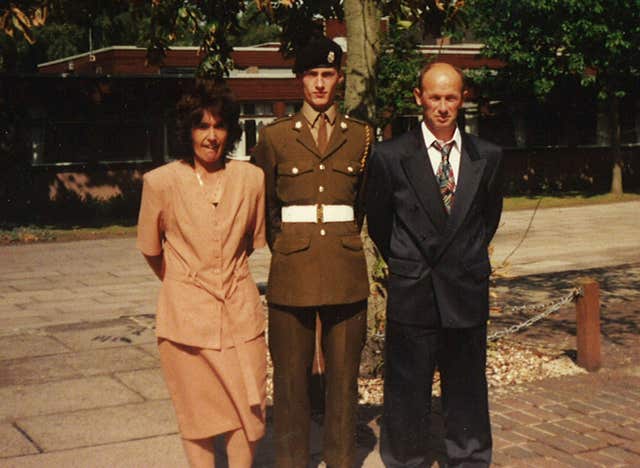 The detention period is understood to have been a punishment for breaking a window.
Tracy Lewis, who attended the hearing with Pte Benton's twin brother Tony, told the inquest that she was surprised to see her brother at their cousin's house on a Thursday, as it would usually be Friday when he would leave the base.
"I was surprised that he turned up and I think he was shocked that I was there.
"He stayed with my cousin that night and then he came round to see me on the Friday," she said.
Ms Lewis said he told her that he had "been in jail for 10 days", and also said that he was "shackled".
"He used that word," she said, referring to "shackled", adding: "He was made to parade around the canteen which embarrassed him and he felt really humiliated."
Asked if he had told her he felt humiliated, she said: "Yes."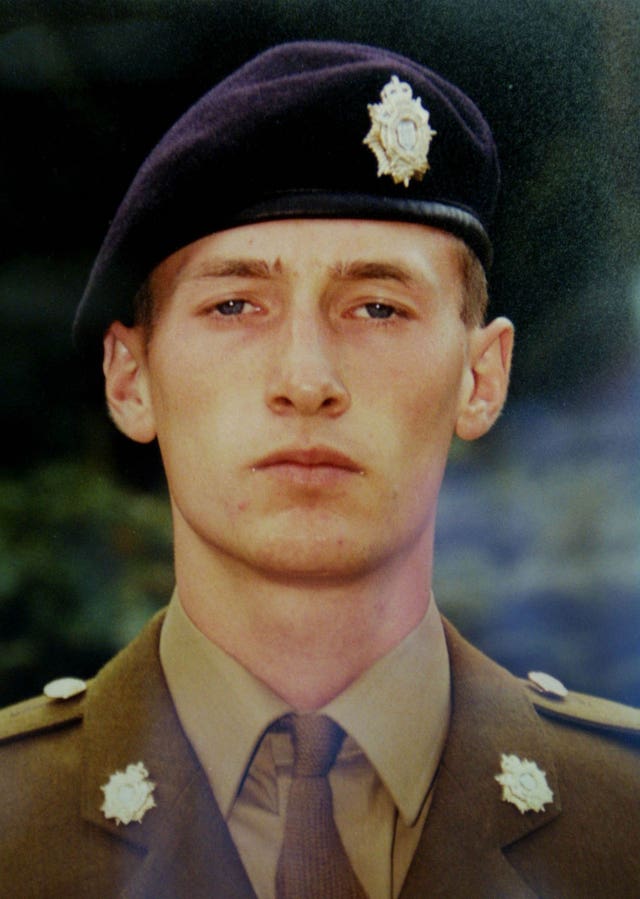 A Royal Military Police investigation led to an initial inquest finding of suicide in 1995, even though no evidence was given about his experiences at Deepcut.
Ms Lewis and Tony Benton, represented by Liberty, applied for a second inquest in July 2015, which was granted last year.
Ms Lewis said her brother told her that he declined to eat on that occasion and asked to go back to the cells.
Also during that visit, Pte Benton told his sister about another incident.
"He told me he was pushed out of a window," she said.
Describing how her brother seemed during that visit, she said: "He was different. He appeared different."
Ms Lewis also told the inquest that Pte Benton smoked and drank more alcohol when he joined the Army.
Reflecting on the impact of his death on their family, Ms Lewis said in a statement, partly read to the court: "The impact on our family was immediate and profound.
"It changed the course of all of our lives."
She added: "I want to find out what happened to my brother. I have no agenda other than I want to know the truth."
The inquest also heard that Pte Benton took two overdoses of paracetamol – one when he was 16 and on another occasion in the Army.
Pte Benton's mother Linda died in 2015, having never discovered the truth about what happened to her son.
Statements by his mother before she died were read out, and one from September 2002 questioned why his death was "very quickly treated as suicide".
The statement said her main concern is that there is "something not right about Sean's death", adding that the initial investigation did not answer her concerns.
She asks why, if the Army were concerned about her son's welfare and state of mind, was he not more closely supervised.
In one of the statements, his mother recalls him coming home on the May bank holiday and how he "appeared withdrawn and tired".
She said that usually the pair of them would only chat for five or 10 minutes, but at one stage on this weekend they talked for more than hour.
She said she asked him if he was being bullied, which he said he was not, but she said that he told her that the barracks was "doing his head in and he wanted to get away".
An Army spokesman said: "The Army deeply regrets the death of Private Sean Benton on June 9 1995.
"His death was a terrible tragedy. The Army apologises for the shortcomings at Deepcut in 1995.
"We took too long to recognise and rectify the situation.
"The Army is not afraid to be open and honest and to be held accountable for its actions, whether in training or on operations.
"We care about our soldiers above all else, they are the Army.
"Nobody wants to know more than we do what can be done to reduce the risk of a tragedy like Private Sean Benton's death happening again."