Campaigners have been given the go-ahead to challenge a court ruling on the Government's plans to cap the number of child refugees allowed into the UK.
The Help Refugees charity brought legal action over the Home Office's calculation that only 480 unaccompanied children should be accepted under an amendment moved by Labour peer Lord Dubs.
It sought orders to force Home Secretary Amber Rudd to abandon the cap and reopen what it said was a "defective" consultation process so consideration could be given to allowing more children in.
The charity has now been given permission to challenge that decision at the Court of Appeal.
Law firm Leigh Day, which is representing the charity, said on Thursday there are currently 3,350 unaccompanied children in Greece and that, to date, only one child has been relocated in the UK under the Dubs Amendment.
Rosa Curling, a human rights solicitor at the firm, said: "We are pleased the Court of Appeal has listened to the concerns raised by our clients who believe the Government needs to reopen the consultation so that national capacity to assist these lone children, many of whom are struggling to survive and at risk of serious abuse, can be properly assessed."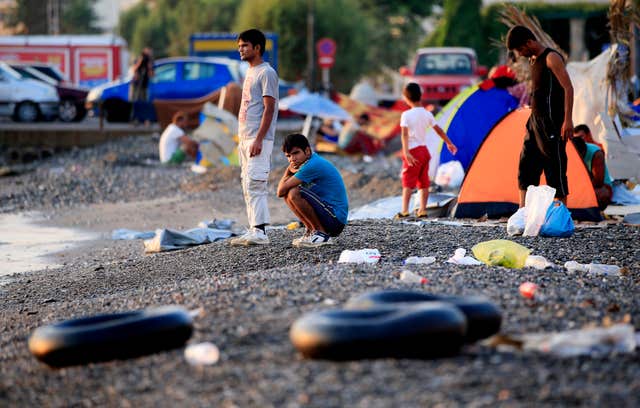 "The crisis these children are facing is still as desperate now as it was when the amendment was passed."
The charity also launched a campaign to help finance its case against the Home Office on the CrowdJustice fundraising website.
Ms Naughton added: "The Dubs campaign was the greatest public pressure to help refugees in this country in generations.
"Now we're asking for the British public's help to fund this case and help hold the Government to account on their unfulfilled legal responsibility to provide sanctuary to unaccompanied children."
The Government previously defended the claim at the High Court, arguing there was no illegality in the consultation process.
The Dubs Amendment was to the 2016 Immigration Act and, from May last year, required the Home Secretary to make arrangements to relocate "a specified number" of vulnerable refugee children from Europe based on feedback from local authorities.
Ms Curling previously said the charity's litigation has already led to an extra 130 places from the original 350 specified by the Government.
Help Refugees said the Government has also changed its criteria that only children who had been in Europe since before March 2016 would be eligible under the scheme, and will now take in children who arrive before March of this year.
The charity's crowdfunding page can be found at www.crowdjustice.com/case/dubs-now