Britain needs to offer more clarity about its plans for Brexit, the Dutch prime minister said after talks with Theresa May.
Mark Rutte warned the "clock is ticking" and called for swift action after the meeting in No 10.
The Netherlands has been one of the UK's closest allies in the European Union and the premier insisted relations between the two nations are "fantastic".
But tweeting after the talks, he said: "In view of our close economic ties, it is clearly crucial for the Netherlands and Dutch business to ensure a strong relationship post-Brexit.
"So the British government really needs to offer more clarity about where it wants to go.
"The clock is ticking, and we need to move fast. I sincerely hope that we'll succeed in reaching agreements that are good for us all.
"One thing is certain: the UK and the Netherlands are good friends and key partners, and Brexit will not change that."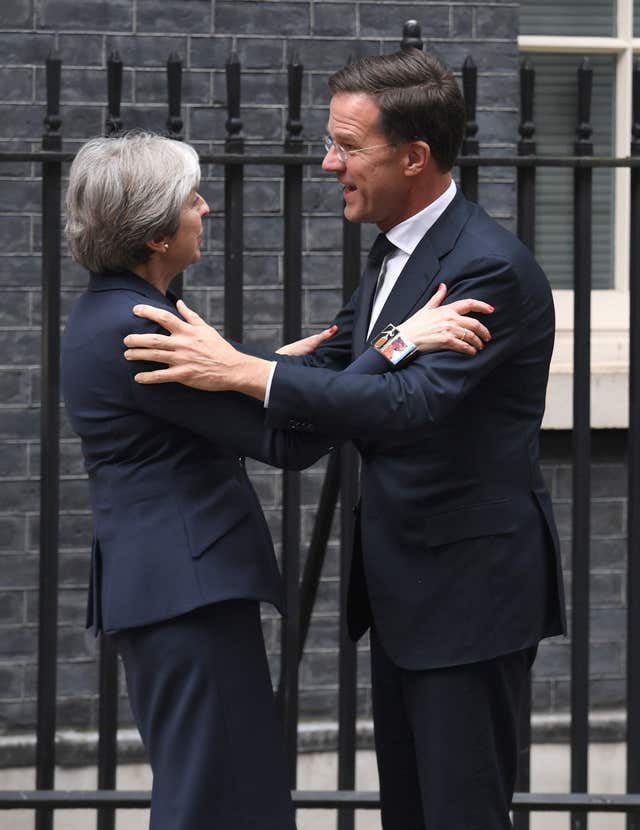 The Prime Minister will hold a crunch meeting with senior Cabinet ministers on Thursday to thrash out an agreement on how to proceed in negotiations with the EU.
In a letter, Conservative MPs warned the UK must have full control over laws after Brexit and must not become a "rule taker".
Britain must not be stopped from negotiating and signing trade deals during any transition period, they said.
The letter was sent by the European Research Group (ERG), made up of Tory Eurosceptics, and was signed by 62 MPs, including former Cabinet ministers Priti Patel and Iain Duncan Smith.
Labour said the letter exposed the "deep divisions" in the Conservative Party and claimed the PM was "too weak to face down the fanatics in her own party".