Embattled Ukip leader Henry Bolton has compared the scrutiny of his private life to that faced by Diana, Princess of Wales.
Ukip members will decide his fate on Saturday at a crisis meeting after the party's ruling national executive committee (NEC) backed a motion of no confidence in his leadership.
Mr Bolton is clinging on to the leadership despite a revolt by several senior figures in the party in protest at his relationship with model Jo Marney.
Mr Bolton has admitted he still has "strong affections" for his former girlfriend who sent racist messages about Meghan Markle.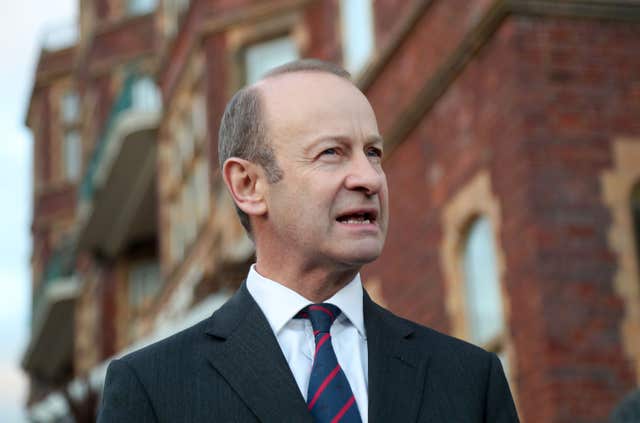 He said:  "The only people that are truly affected by that are my wife and children, and I feel deeply, deeply sad for what pain and hurt I've caused them but it's a private matter and it needs to be dealt with privately.
"I understand the scrutiny and public interest but it's been going on for six weeks.
"There's probably been nothing like that since the Profumo affair or Diana and Dodi (Fayed)."
He told Sky News: "The interesting thing about this whole case is that I myself have done nothing wrong.
"I have gone through a huge degree of scrutiny and a massive amount of personal disruption over the last six weeks.
"It's been an experience I wouldn't wish on my worst enemy … in hindsight I would have probably dealt with certain personal elements of it in a different way."
Mr Bolton's future will be decided by hundreds of Ukip members gathered at an extraordinary general meeting in Birmingham which will decide whether or not to endorse the NEC's no confidence vote.
The Ukip leader, who has called for sweeping changes to the way the party is run, claimed he was the victim of rivals "stirring the pot".
"The people who started complaining about this were people on the NEC, none of whom voted for me in the leadership election.
"Secondly there were a small number of individuals within the party, failed leadership contenders who saw an opportunity in me leaving my wife to go in for the kill – they're stirring the pot … if they were truly dedicated to the party and their country and not to their own they would have stayed at their posts."
The cash-strapped party is in crisis, with the prospect of a legal bill over a defamation action brought by Rotherham's three Labour MPs against MEP Jane Collins.
Former leader Nigel Farage handed Mr Bolton a lifeline by supporting him, but said the party was "collapsing".
Writing in the Daily Telegraph, he said: "I believe it would be better to allow Mr Bolton, with all his faults, the chance to turn Ukip into an electoral machine again.
"The alternative is for the party to carry on down the path of self-destruction into irrelevance. It may be too late to save Ukip, but you never know."