A yachting management firm director kept drinking after receiving an "urgent" email from the crew of a yacht saying it was taking in water hours before it sank, killing all four men aboard, a court has heard.
The Cheeki Rafiki yacht lost its keel as the crew were returning the 40ft yacht from Antigua to the UK in May 2014. The vessel got into trouble 1,000 miles from the United States.
Lost at sea were all four crew members – skipper Andrew Bridge, 22, from Farnham in Surrey, James Male, 22, from Southampton, and Steve Warren, 52, and Paul Goslin, 56, both from Somerset.

Douglas Innes, 43, director of Stormforce Coaching Limited, is the subject of a retrial at Winchester Crown Court charged with four counts of manslaughter by gross negligence which he denies.
Nigel Lickley QC, prosecuting, told the jury that the yacht, named after a character in The Lion King, had an undetected fault with bolts holding the three-tonne keel to the hull which then failed, causing it to fall off during the bad weather on the voyage.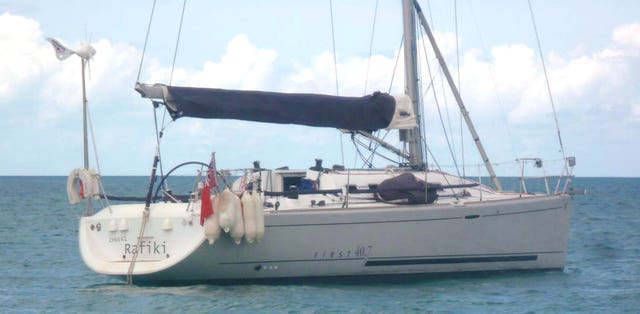 Mr Lickley said he replied to the email, telling the crew to make sure the life raft was ready to abandon ship.
He continued: "Despite that and what was happening at sea, he didn't call the UK Coastguard to alert them of the situation at that time, but he went to another pub nearer to his home and carried on drinking."
Mr Lickley said that after talking to the crew, Innes then did go home and call the UK Coastguard but "he didn't report any urgency, he said the pumps were coping".
Mr Lickley said Innes then sent an email to the yacht telling the crew to "pull the interior apart" to find the source of the leak and suggested looking at the keel bolts.
He continued: "That would reflect the actual cause of the tragedy and the keel bolts had failed causing the keel to detach from the hull."
Mr Lickley said the yacht, which had grounded on two earlier occasions, had been unsafe and unsound because Innes had neglected it for several years by not maintaining it or having it inspected.
He added that Innes had chosen an unsafe route for the journey.
Mr Lickley said that Innes, of Whitworth Crescent, Southampton, Hampshire, had a "duty of care" to the four men and "not to put cost over their safety".
The trial continues.