Police in Scotland have urged employers to be "flexible" with staff as extreme weather continues to cause major disruption to travel routes.
An estimated 1,000 vehicles were stuck on the M80 overnight and road crews were working to free those which were still there on Thursday afternoon.
Drivers reported being stranded for up to 13 hours, with some spending the night in their cars, and others abandoning their vehicles on the motorway.
Now employers are being urged to allow staff to work "flexibly" to avoid further disruption to routes.
Superintendent Helen Harrison said: "We continue to deal with a number of challenging incidents right across the country and the response from our officers, staff and those of our partner agencies has been outstanding.
"Our advice has not changed – avoid travel in the affected areas and keep a close eye on the Met Office updates and from the authorities across Scotland.
"If you can postpone your journey in affected areas until after the amber warning ceases I would urge you to do so.
"We'd ask employers to continue to allow staff to work flexibly."
The comments come after Transport Minister Humza Yousaf told Reporting Scotland he would be holding talks with employers after workers became stranded while travelling for work.
Other major roads such as the M74 and the M876 also faced severe disruption.
A red alert for snow had been in place across central parts of Scotland until 10am on Thursday, however an amber alert covers much of the country until the same time on Friday.
The Met Office warned there may be long delays and cancellations on bus, rail and air services and that roads may become blocked by deep snow, with many stranded vehicles and passengers.
Two of Scotland's busiest airports have been forced to close for the second day running due to severe weather conditions, with others facing major disruption.
Glasgow flights have been suspended for the rest of the day after first shutting on Wednesday, while Edinburgh closed all its routes before 4.20pm.
Chris and Vicky Robinson, from Stranraer, got married last weekend and were looking forward to a luxury holiday in the Maldives when heavy snow hit on Wednesday.
Instead of enjoying 30C heat in the Indian Ocean, they spent the night on chairs in Glasgow Airport's main terminal.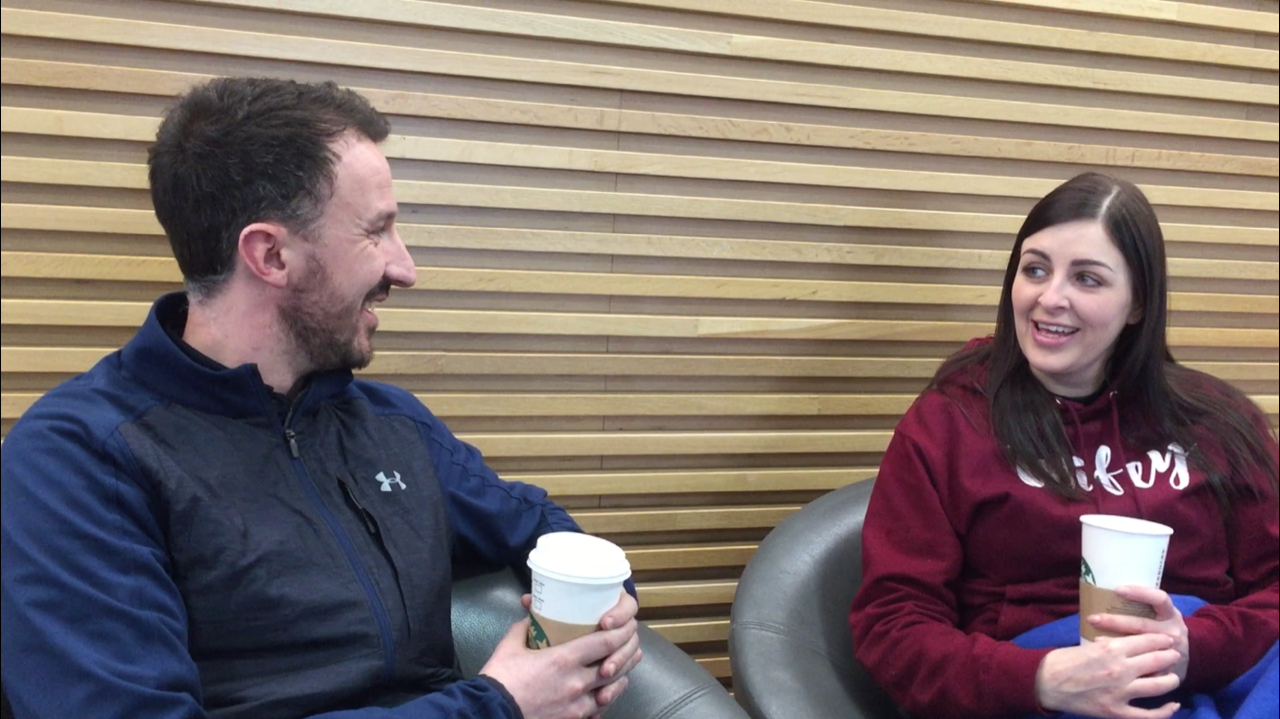 "We had the perfect wedding so you can't ask for everything."
Stagecoach announced no buses would be serving Edinburgh, Glasgow or Fife, while Citylink stopped running all of its routes on Thursday.
Virgin Trains has shut all its routes to and from Scotland throughout the day, while ScotRail has been running limited services in badly affected areas.
Hundreds of schools were closed for a second day on Thursday as the severe weather continued, including in Glasgow, East Dunbartonshire, Edinburgh, West Dunbartonshire, Inverclyde, Midlothian, Falkirk, North Lanarkshire, South Lanarkshire and Clackmannanshire.
A number have already announced they will remain shut on Friday, including in East Lothian, West Lothian and Edinburgh.
Glasgow School of Art has also been closed until Monday.
The extreme weather has seen health boards cancel non-essential operations and outpatient appointments on Thursday and Friday, while NHS 24 has described its operations as being "stretched".
A further Scottish Government Resilience Room meeting has been held, with the First Minister, Deputy First Minister and Mr Yousaf all in attendance.